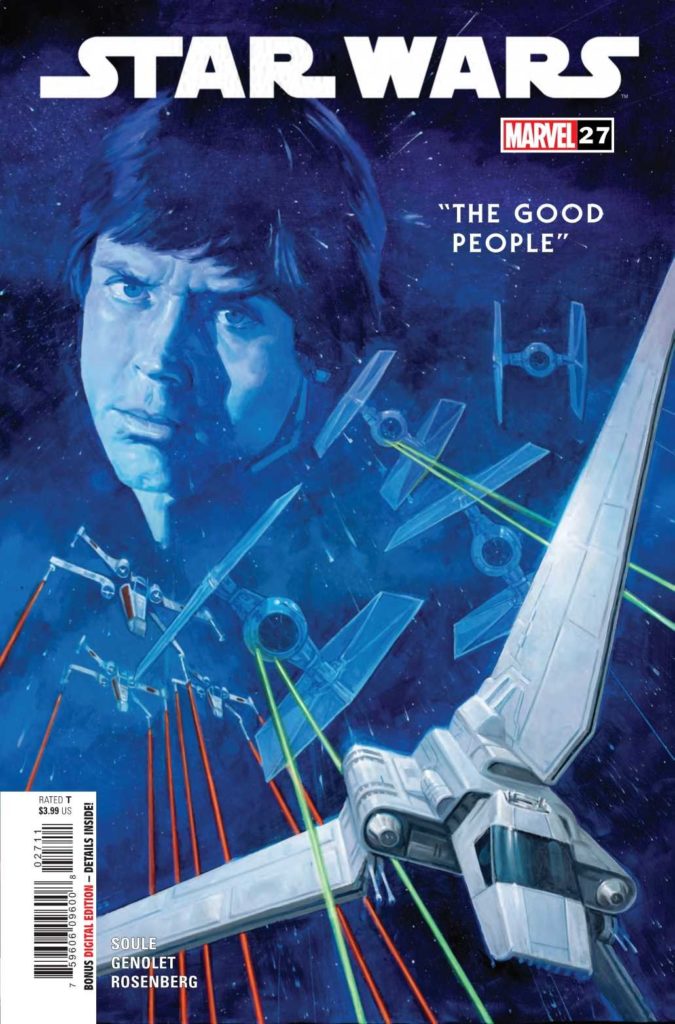 Star Wars #27
Marvel Comics
Written by Charles Soule
Art by Andres Genolet
Colors by Rachelle Rosenberg
Letters by Clayton Cowles
The Rundown: Imperial defectors discover escaping the Empire to be a lot harder than they imagined.
A family of Imperial defectors working for Crimson Dawn have stolen information about the creation of a second Death Star. Trying to flee from the empire with their children, they attempt to contact the Rebellion to ask for help. Unfortunately, a squad of tie fighters will force them to enter hyperspace to escape.
As the family attempts to evade their pursuers, they head to the most dangerous place in the universe to try to hide from the Empire. A place that will put a bigger target on their backs as they try to hide. At the same time, the Rebel Alliance discusses the transmission they received and one of them decides that looking for the defectors could be a good idea.
The Story: Soule crafts an entertaining side story that is filled with thrilling moments and tension. I like that the story stands on its own without having to rely on other characters to make the story compelling. The tension throughout the story is great and I really enjoyed how the main characters are sprinkled in right up to the exciting cliffhanger ending.
The Art: Genolet delivers some stunning and exciting art throughout the issue. The action is thrilling and the visual tone perfectly captures the tone and tension of the story.