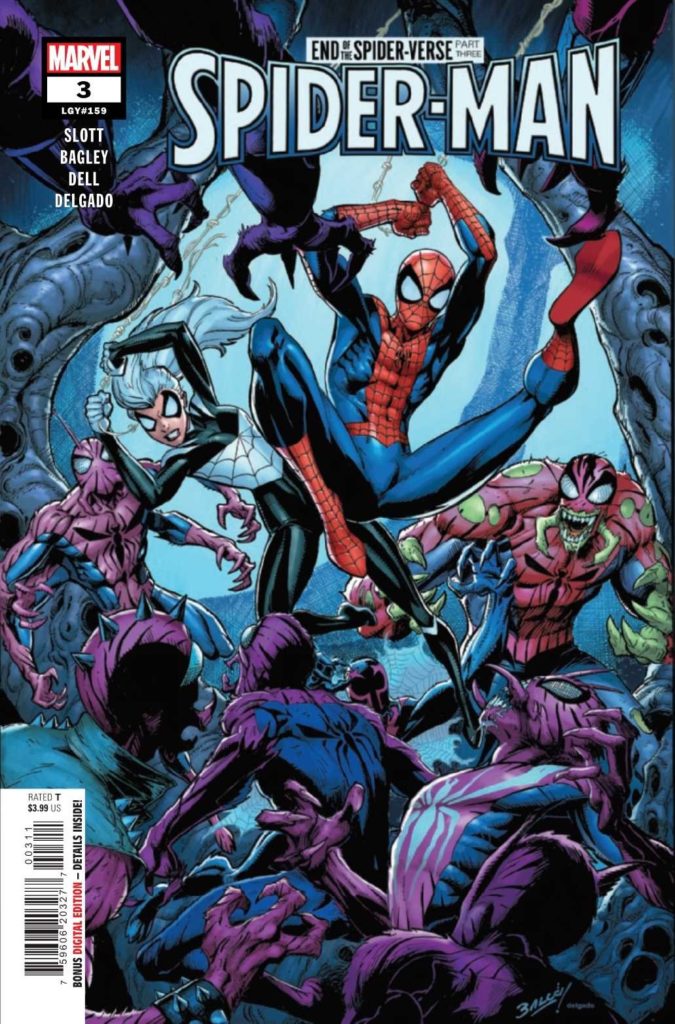 Spider-Man #3
Marvel Comics
Written by Dan Slott
Art by Mark Bagley
Inks by John Dell
Colors by Edgar Delgado
Letters by Joe Caramagna
The Rundown: Peter and his allies attempt to find a mysterious artifact, but one of the team has other ideas.
Miles has been stung and his unique identity from two different worlds allows him to fight off the infection from Shathra long enough to escape and not hurt his friends. In the aftermath, they learn of an item that might help them in their fight as well as bring back one that they lost and Peter decides to take a small team with him to secure it. At the same time, Morlun decides that if he secures the knife Spider-Man Noir used on Jessica, he can bring back his people.
As Peter and the others travel through a booby trapped tomb, Shathra locates them and sends all of her forces to stop them. At the same time, Morlun's attack will create a dangerous opportunity that could end any chance of saving the Spider-Verse.
The Story: A fast paced, energetic and fun story that not only has great stakes, but also entertaining characters and interactions. Shathra still hasn't struck me as that compelling an enemy, but the story remains solid and there are some great moments within it, especially the twist ending that I was not expecting and was pleasantly surprised by.
The Art: Bagley delivers some gorgeous art in the issue with fantastic crowd scenes with multiple, beautifully detailed characters.