Miles Morales: Spider-Man #1
Marvel Comics
Written by Cody Ziglar
Art by Federico Vicentini
Colors by Bryan Valenza
Letters by Cory Petit
The Rundown: Miles finds his life spinning out of control as a new threat to it grows.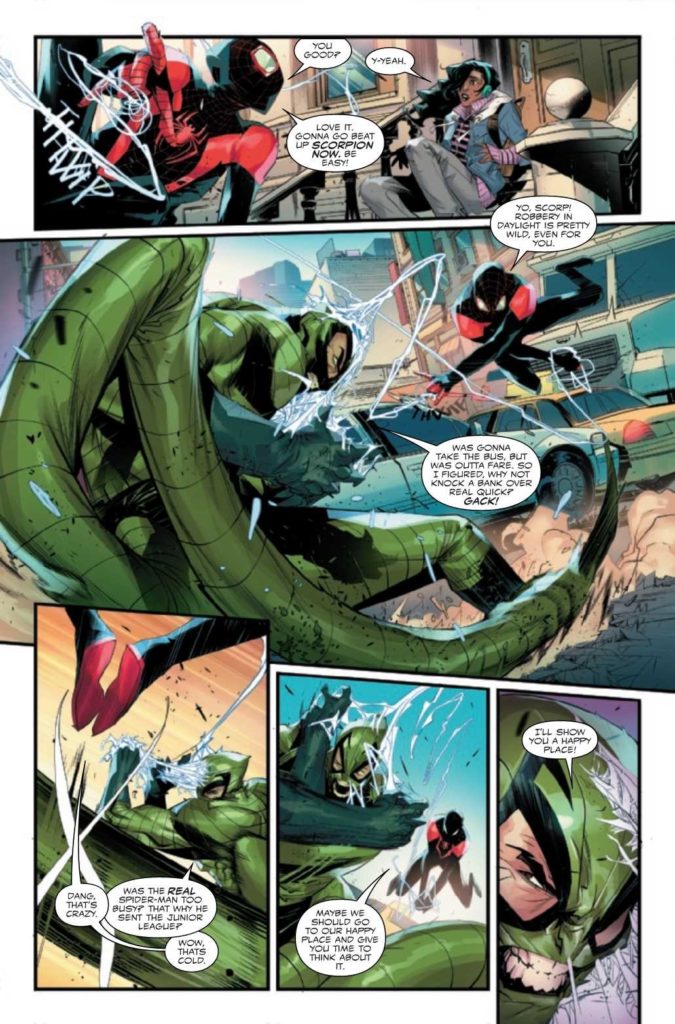 A young lady helps out a woman on the street and finds herself almost getting killed when Scorpion tries to hijack an armored car. Miles intervenes to save the young woman while also taking on the villain, but he doesn't get the reception he expected when Gao and her forces arrive on the scene. Things only get worse when he arrives late for school and an outburst to the teacher lands him in more trouble.
Luckily, Miles' family is there for him as he deals with his personal issues, but he decides to try to do some more good before heading home. An act that will garner the attention of someone who not only wants him stopped, but knows exactly who he is.
The Story: Ziglar creates an interesting story for Miles and I love seeing him struggle with multiple things at once. There is a scene of great vulnerability in the issue and I love that it is resolved by Miles opening up to his parents. I find the new antagonist in the issue interesting as well and look forward to seeing what her motivations are.
The Art: Vicentini delivers some great visuals throughout the issue and I love the tone of the art and its style. The action is thrilling and I love the character designs as well.