Glass Onion: A Knives Out Mystery
Netflix
Written by Rian Johnson
Directed by Rian Johnson
Starring Edward Norton, Daniel Craig, Janelle Monae, Kate Hudson, Kathryn Hahn, Leslie Odom Jr, Jessica Henwick, Madelyn Cline, Dave Bautista, Noah Segan and Ethan Hawke
Rated PG-13
In the follow up to Rian Johnson's KNIVES OUT, Detective Benoit Blanc travels to Greece to peel back the layers of a mystery involving a new cast of colorful suspects.
Rian Johnson returns to write a direct a follow up to 2019's Knives Out. Thankfully, the film doesn't directly connect to the first one with anything but the return of Daniel Craig's Benoit Blanc. When a group of people from diverse and interesting backgrounds receive mystery boxes from billionaire inventor Miles Bron (Norton), they each find themselves going through a series of increasingly difficult games to solve the riddle and receive their invitations to an exclusive party on a secluded Greek island. The first moments of the film are exciting because Johnson does a great job of introducing the audience to this new cast of characters and establishing their relationships with each other.
The actors are amazing and their performances are all perfectly balanced for the mystery, intrigue and comedy of the plot. Things get mote interesting when detective Benoit Blanc (Craig) is invited to the island as well and no one, not even Bron knows why. Another unknown guest arrives in the form of Andi Brand (Monae) and her presence jump starts its own mystery filled with greed, betrayal and a bigger mystery that one of the party-goers is hiding from the others.
The plot takes some incredibly interesting and fun twists and turns as Bron has gathered his old friends for a murder mystery. A mystery that Blanc immediately turns on its head and a real murder begins the catalyst for a bigger mystery that leaves all of the guests as suspects and one that has a secret. A secret that will change everything about the friend group and their affable, if slow witted benefactor.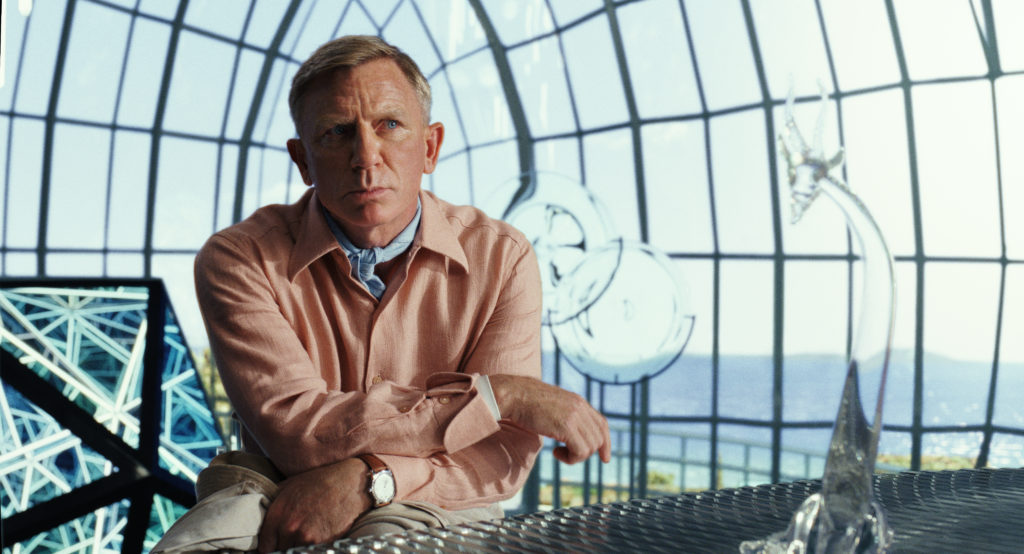 The mystery at the heart of the film is really engaging and relevant to today in the sense of breakthrough technology, shadowy business dealings, influencer culture and politics. I love how all of those elements work so well with the characters and their respective motives in the film. I also love how deftly Blanc works through those motives and to see him actually investigating is incredibly fun because of Craig's dynamic performance.
Monae also gives one of the best performances in the film and to say anymore about it would be to ruin some great revelations and character development. Needless to say, she kills the role and has a wonderful presence in all of her scenes that makes you want to pay attention to her every moment she is on the screen.
Glass Onion is a fantastic, classic murder mystery that takes all of the conventions we enjoy from Agatha Christie and more and cranks them up without losing their inherent charms. Johnson writes and directs the film with flair and gives everyone in the cast great moments to shine as well as crafts humorous moments that happen organically as you marvel at the characters and their circumstances. The film isn't perfect, but it does exactly what it sets out to do by creating an interesting mystery with interesting characters and a dynamic lead in Blanc that brings the audience to a satisfying and unexpected resolution.