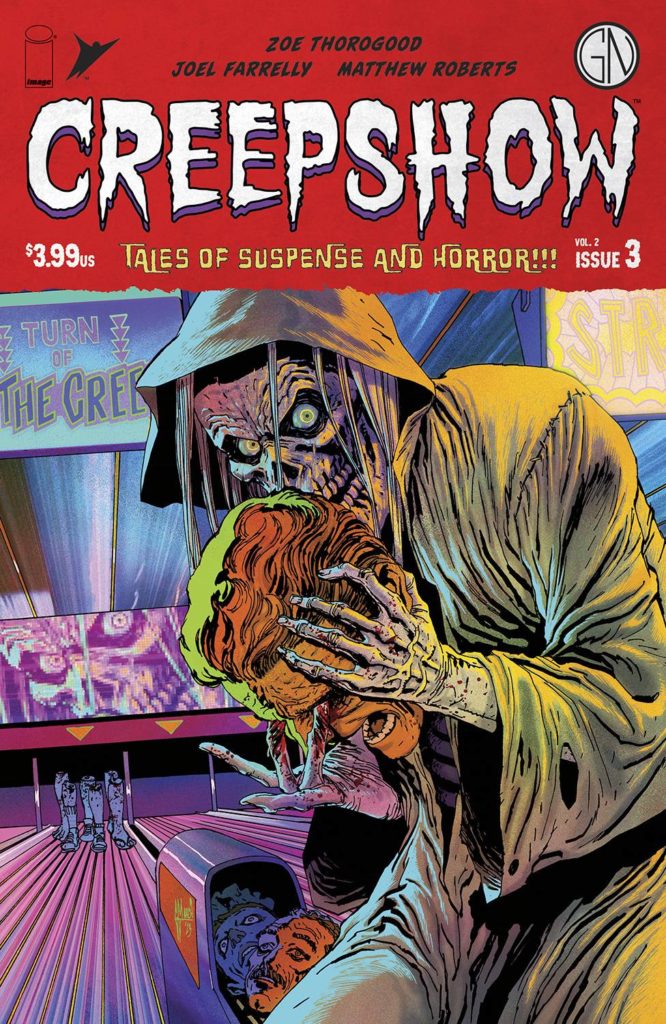 Creepshow Volume 2 #3
Image Comics
Written by Zoe Thorogood and Joel Farrelly
Art by Zoe Thorogood and Goran Sudzuka
Colors by Zoe Thorogood and Ive Svorcina
Letters by Zoe Thorogood and Pat Brosseau
The Rundown: Two new stories explore fear and horror.
Eternity, Eternity, Eternity
A woman traumatized by death decides to find a way to live forever. She succeeds, but she is the only one. Unfortunately, that means she gets to survive while the rest of the world and everyone she loves decays and dies around her. A life where she struggles to find meaning no matter short it is.
A fantastic and darkly endearing story from Thorogood. The plot is beautifully engaging and has some fantastic elements of horror and science fiction mixed with amazing art that is compelling.
Sacrifices
A finder of rare and expensive items meets with his buyer and his wife on a cruise ship in the middle of the ocean. A rendezvous that will lead to a double cross and a hasty escape. Unfortunately, the finder and his partner will discover the item he secured is for something more dangerous and powerful than they could even imagine.
An interesting premise that is hampered by its quick pacing. Everything happens so fast that you never get to enjoy either the caper or the horror.