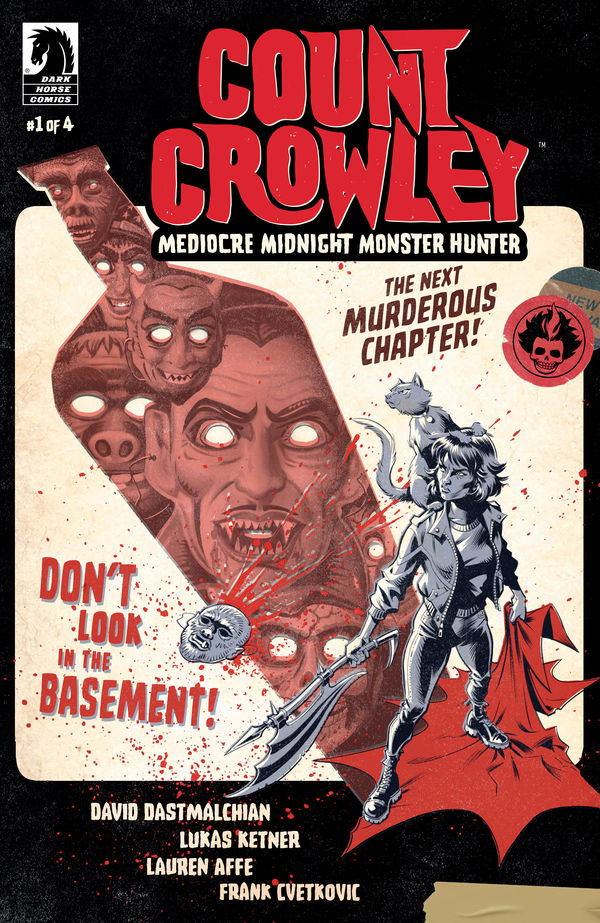 Count Crowley: Mediocre Midnight Monster Hunter #1
Dark Horse Comics
Written by David Dastmalchian
Art by Lukas Ketner
Colors by Lauren Affe
Letters by Frank Cvetkovic
The Rundown: Jerri deals with her own personal monsters as the real ones take the next step in their plans.
Jerri's world continues to spiral as she discovers her werewolf friend Steven murdered by the previous Count Crowley newly returned to town. A man who doesn't believe in second chances when it comes to monsters. Trying to get help from her brother leads to a dead end and the temptation to drink comes on strong.
At the same time, the vampires continue to expand their influence and the disappearance of one of their own will lead to a powerful one deciding to pay a visit to Jerri's stomping grounds. With things falling apart all around her, a call will send Jerri on a destructive spiral she might not recover from as another evil descends on the area.
The Story: Dastmalchian returns readers to Jerri's world with a story that is filled with suspense, tension and possible tragedy. Not only is there great drama throughout the issue, but Dastmalchian is crafting an engaging and compelling story for Jerri that has already started taking her down a dark path that drew me in. I continue to be a huge fan of this character and look forward to the journey Dastmalchian is taking her and the reader.
The Art: Ketner's art is amazing. Every page is filled with fantastic details that brilliantly showcase the emotions of the characters and the dark beauty of their world.