Batman Superman World's Finest #3
DC Comics
Written by Mark Waid
Art by Dan Mora
Colors by Tamra Bonvillain
Letters by Aditya Bidikar
The Rundown: Batman and Superman try to rescue their friends as the battle to stop Nezha becomes more complicated.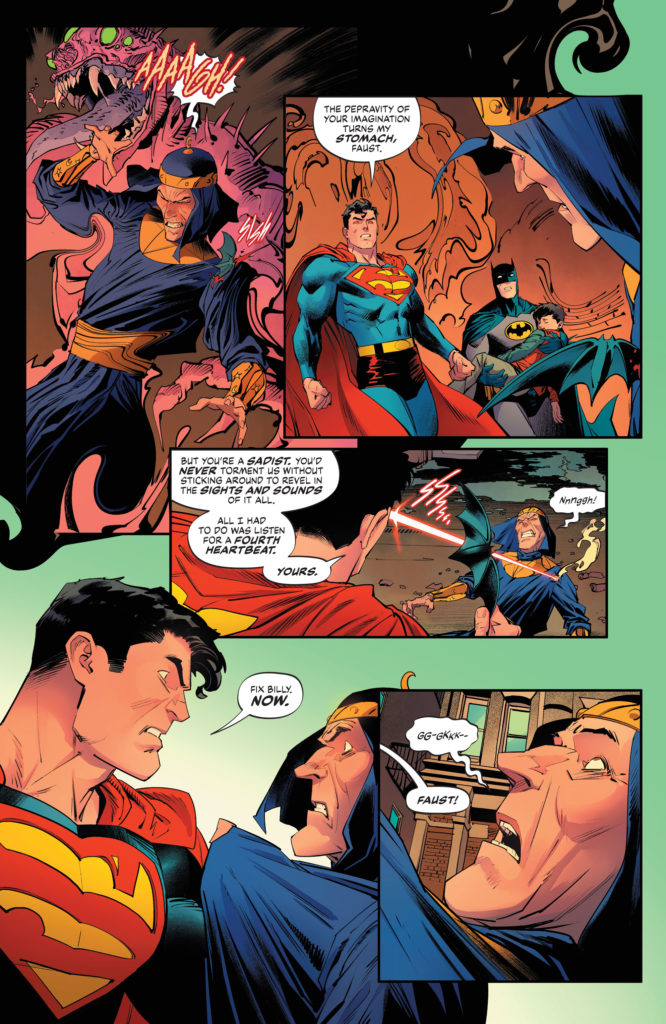 A vision of hell has captured Batman and Billy Batson and neither one can escape. As demons attempt to take hold of the Dark Knight, Batman calls for Superman to help. The Man Of Steel uses his skills to locate Faust and proceeds to force him to end the illusion. At the same time, Doom Patrol goes to visit a former enemy and discover that Nezha has a long reach.
Robin and Supergirl find themselves battling the warriors that stopped Nezha in the past. IN the aftermath they discover how difficult it was to trap the demon the first time. Batman and Superman make their way to Central City just in time to discover the aftermath of an attack on one of their friends and a trap sprung on another. The attack spurs Batman to make a call to someone he trusts, but he doesn't realize that person is not alone.
The Story: Waid crafts an entertaining story that is filled with great action and mystery. The story does a great job of nailing the relationship between the two characters and I like the continued conflict between Supergirl and Robin. The Doom Patrol moments are great and everything in the story comes to an interesting and unexpected twist I wasn't expecting, but am curious to see play out.
The Art: Dan Mora has a wonderful eye for both character and action. The character designs are fantastic. The action is thrilling and the world of the story is beautifully detailed.