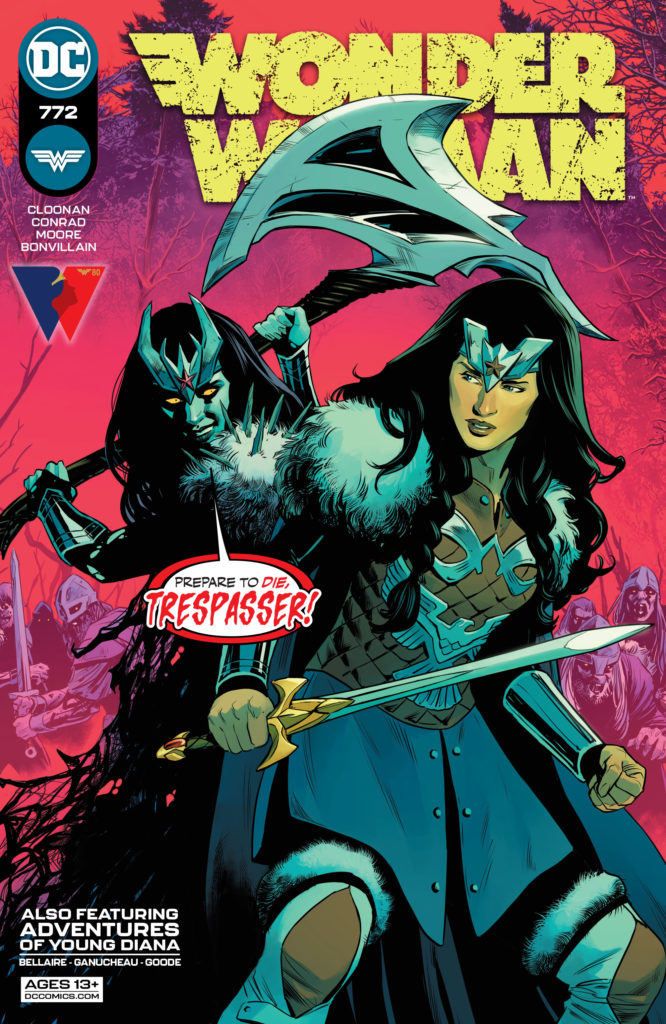 Wonder Woman #772
DC Comics
Written by Becky Cloonan and Michael W Conrad
Art by Travis Moore
Colors by Tamra Bonvillain
Letters by Pat Brosseau
The Rundown: Diana's adventure in Asgard continues as she seeks the help of the Valkyries.
Diana emerges within the serpent Nidhogg in order to find the key she seeks. When the creature attempts to consume her, the mystery figure that's been watching over her decides to finally intervene and give her the help she needs to escape along with the item that she seeks. After escaping, she finds Thor and the other warriors preparing for another battle. When Odin arrives to intervene, he gives his son some stern words about the state of the world and how his battle is causing more harm than he realizes.
In the aftermath of another battle, the mystery figure appears to Diana again and this time he reveals himself to be someone she knows from her old life. Someone who has been sent to watch over her and give her direction back to Olympus. With a renewed sense of purpose and her memories returning, Wonder Woman sets out find a way to help Siegfried, but she will run into something she didn't expect and her journey will take a dangerous turn.
The Story: Cloonan and Conrad do an excellent job of making this story consistently interesting. The plot is entertaining and the dialogue is fun and engaging. Diana's adventure has a natural flow to it that keeps me intrigued with both its direction and meaning. There is a lot going on in this story and every aspect of it makes me interested in more. I love the reveal in the story as well because it was so unexpected but welcome for fans of the character.
The Art: Travis Moore does an amazing job of setting the mood of the scene in the art. The details are beautiful and the characters pop. There is some great action and the panels do a brilliant job of matching the tone of the story itself.