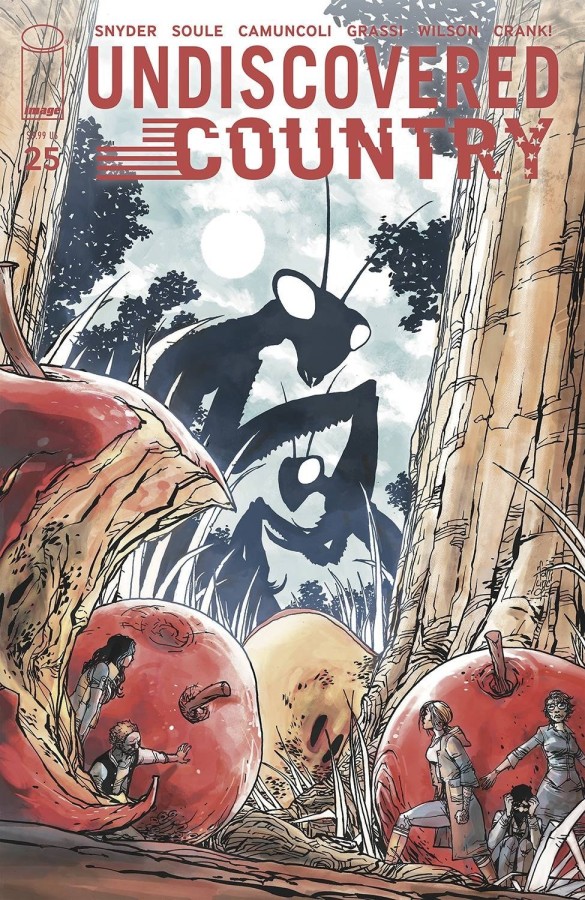 Undiscovered Country #25
Image Comics
Written by Scott Snyder and Charles Soule
Art by Giuseppe Camuncoli and Leonardo Marcello Grassi
Colors by Matt Wilson
Letters by CRANK!
The Rundown: The group finds a temporary reprieve, but secrets threaten to destroy their alliance.
The group finds themselves in Zone Bounty and among a world filled with food. As they get their bearings and fight off giant locusts that have infested the land, Charlotte continues to worry about what happened to her brother as they get closer to Aurora. At the same time, Chang has a dark secret that he is keeping from the group.
After finding the people who inhabit the zone, the group is greeted warmly and given the opportunity to rest before they continue their journey as well as help to get directly to Aurora. As Change separates from the group, Charlotte discovers not only his secret, but what is happening in the rest of the world since they came to the States.
The Story: Snyder and Soule deliver another fantastic story in this issue. The world of this story continues to fascinate and the characters continue to drive the drama forward with both their budding relationships and secrets. I like that the issue takes some interesting turns for the characters and how they are changing because of their experiences. Knowing Snyder and Soule and their work, I look forward to seeing the next twist after the shocking end of this issue.
The Art: Camuncoli and Marcello Grassi deliver fantastic art throughout the issue. I love the scale of the world in this issue and how brilliantly the visuals bring out and enhance the tone of the story.