Nightwing #106
DC Comics
Written by Tom Taylor and Michael W. Conrad
Art by Stephen Byrne and Serg Acuna
Colors by Adriano Lucas
Letters by Wes Abbott

The Rundown: Nightwing is confronted by his recent past when he searches for an item in possession of Quartermaster.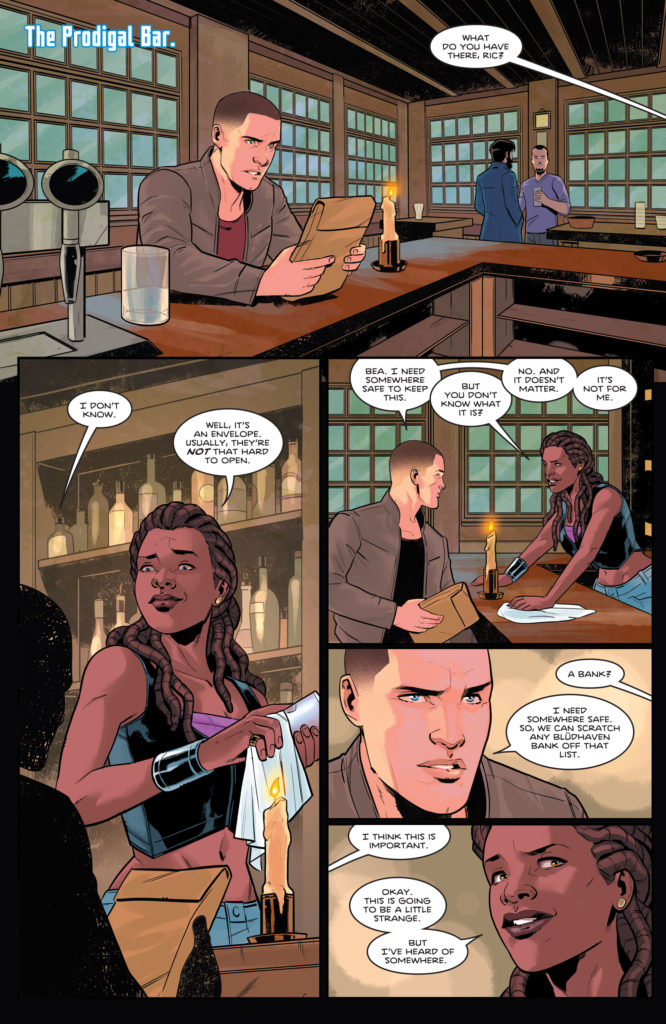 The narrative begins two years ago when Ric Grayson is accosted by a stranger that hands him a mysterious package. Later, Bea introduces Ric to a group that can assist him in housing the bundle. In the present, Nightwing tells Barbara and Gar about a previous encounter with a sailor and his desire to follow up on the given information. Elsewhere, two villains search for treasure is undermined by crafty sailors. Finally, Nightwing's search leads to several shocking events.

Breakfast for Dinner
Dick and Cassie hang out in The Hill practicing martial arts and cooking. Later they are joined by Stephanie and three enjoy dinner and a movie. Unknowingly, Dick is being followed by Mr. Hatch on behalf of the Three Bears, a man who is clueless to his secret identity.

The Story:
Tom Taylor just broke my brain with this one. At one point I audibly screamed: "You're a liar!" As someone who truly believed the Nightwing series should have completely reset with the current run, I am both stunned and excited to see Taylor explore more elements from the Dan Jurgens era. I appreciate how the current team has always taken into consideration previous storylines, but I find this new twist BOLD. Crossing Heartless with Ric Grayson's past was NOT something I saw coming, but now I am all in on the adventure!

The B-Story is the first of a three part adventure that focuses on Dick Grayson's private life with his family. It's a cute tale featuring a hapless private investigator.

The Art: Both stories are crafted in a modern comic styling and use bold coloring to capture tone and resonate with readers. The A Story has some interesting actions scenes, and the B Story makes excellent use of character expression and form to emotionally engage the audience.