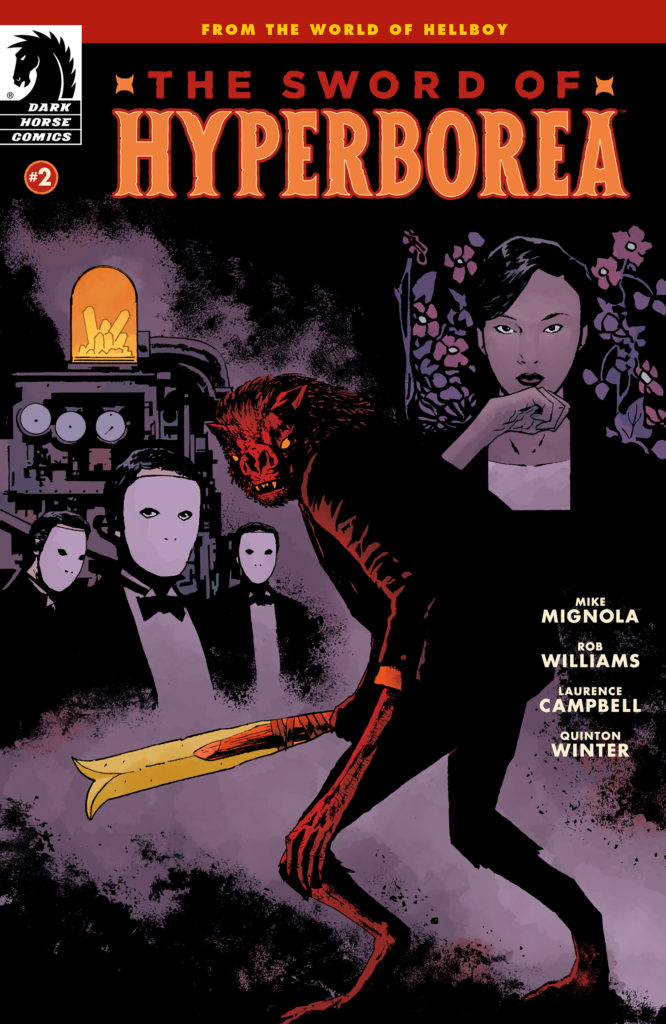 The Sword of Hyperborea #2
Dark Horse Comics
Written by Mike Mignola and Rob Williams
Art by Laurence Campbell
Colors by Quinton Winter
Letters by Clem Robins
The Rundown: A young woman attempts to infiltrate a secret organization only to discover its dark intentions.
An expedition uncovers the sword of Hyperborea and it is used to stop a supernatural threat. Years later, it is stolen and removed from London right before the beginning of the Great War. In Germany, an Englishmen loyal to the Kaiser finds himself dining with the daughter of the man who saved his life and he asks the young woman about her past. A past that included hunting and killing monsters.
With the pleasantries ended, he tells her that the German government has a mission for her. A mission that will pit her against the Heliopic Brotherhood of Ra and their mission to bring forth a demon they can control. Donning a disguise, Graf Ling De Gotha infiltrates a men's only clue to get close to a man who can get her in touch with the Brotherhood. She discovers too late that the demon they plan to bind to them is the one inside her. A demon that will not be bound without violence and blood.
The Story: Mignola and Williams craft a beautifully dark, harrowing and entertaining story in this issue. The story is riveting, but the characters make it come to life. The dark tone of the story draws in the reader and the mystery kept me both intrigued and engaged throughout. I loved the twist in the story and how it comes to a beautifully dramatic conclusion.
The Art: Laurence Campbell delivers some beautiful art in this issue. There is a great use of shadow and darkness to match the tone and mood of the story and I love the visual style immensely.