Rain #2
Image Comics
Written by Joe Hill and David M. Booher
Art by Zoe Thorogood
Colors by Chris O'Halloran
Letters by Shawn Lee
The Rundown: Honeysuckle heads out into a dangerous world to fulfill a promise to her lost love.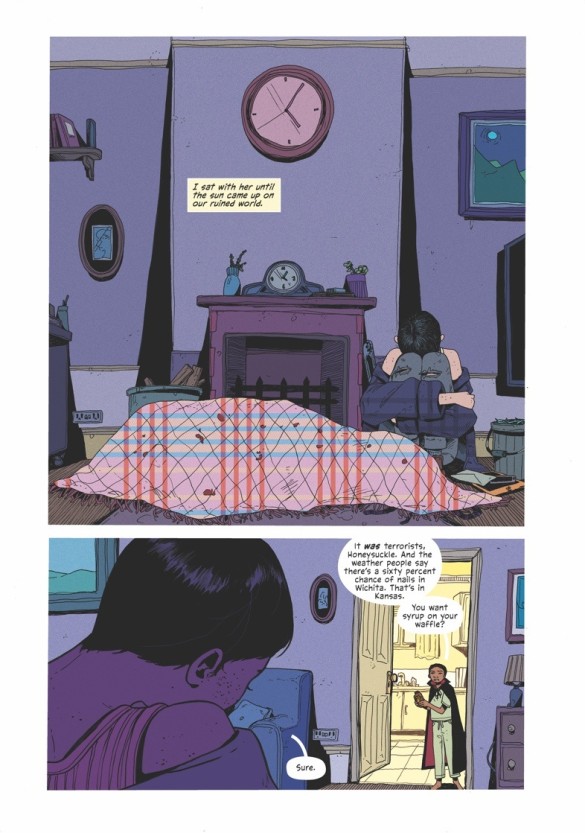 In the wake of tragedy, the cleanup begins. A cleanup that starts with moving the body of the woman she loves out of the open air and inside. After spending the night removing the needles that killed Yolanda out of her body, the only thing Honeysuckle can do next is wait to see what happens to the world in the morning. With few answers coming as to what actually happened, many people in power presume that the rain was a terrorist attack and there is not much to dissuade the public.
Honeysuckle finds herself discussing recent events with her neighbor and learns more about her and her tragic life and the grief she still carries. She decides that the first thing she needs to do is travel to Denver to tell Yolanda's father what happened to his wife and daughter. With the world in chaos, that means making a dangerous walk. A walk that will bring her an unexpected ally and some dangerous enemies.
The Story: I love the tone and pacing of this story. The writing beautifully balances the mystery of the rain and the story of loss and grief that drives the character. The story is unique, vibrant and compelling across the board and the writing draws in the reader emotionally. I am impressed with the style of this story and cannot wait to see where it goes next.
The Art: Thorogood delivers some visually compelling and beautifully detailed moments on every page. The visual focus on character is amazing and the style puts the reader in the shoes of the character as she experiences the events around her.