Star Wars the High Republic #1
Marvel Comics
Written by Cavan Scott
Art by Ario Anindito (backup story art by Andrea Broccardo)
Inks by Mark Morales
Colors by Frank William
Letters by Ariana Maher
The Rundown: Two stories chronicle the Jedi during the time of the High Republic.
The Pilgrim Moon
Jedi Master Vildar Mac has accepted an assignment on the planet Jedha. After arriving and meeting a young Padawan named Matty, he is immediately embroiled in an investigation into a stolen piece of art from a local temple. Beyond dealing with the complicated politics of the city, his own personal trauma and some unfriendly locals, Vildar and Matty discover the thief. A discovery that will lead to tragedy.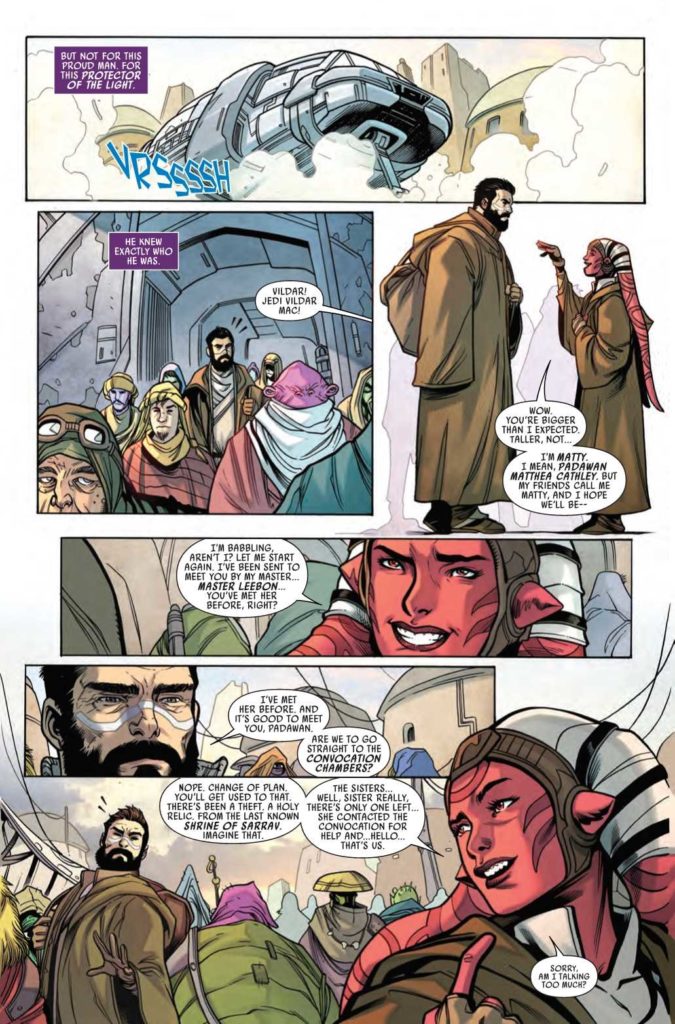 An entertaining and engaging story that does an excellent job of crafting a complicated character within its familiar world. The story has a great pacing that kept me engaged throughout right up until its dramatic and unexpected cliffhanger. Anindito does a brilliant job of illustrating this world and I loved the details in every page and panel.
Peace and Unity
Jedi Oliviah Zeveron enjoys her peace in the deserts of Jedha, but that peace is interrupted when her master tasks her with meeting with the rival religious factions that are meeting to discuss the application of a group with previous ties to the dark side of the Force. As the factions violently oppose the idea, the Jedi must step in and show them how their actions are causing more harm. A task that will make her question her presence among these religions of the light.
A thought provoking and entertaining story that introduces an interesting character and her engaging personal conflict. Broccardo delivers some beautiful art in the story.