All Out Avengers #2
Marvel Comics
Written by Derek Landy
Art by Greg Land
Inks by Jay Leisten
Colors by Frank D'Armata
Letters by Cory Petit
The Rundown: The Avengers face a dark Doom with the help of an unlikely ally.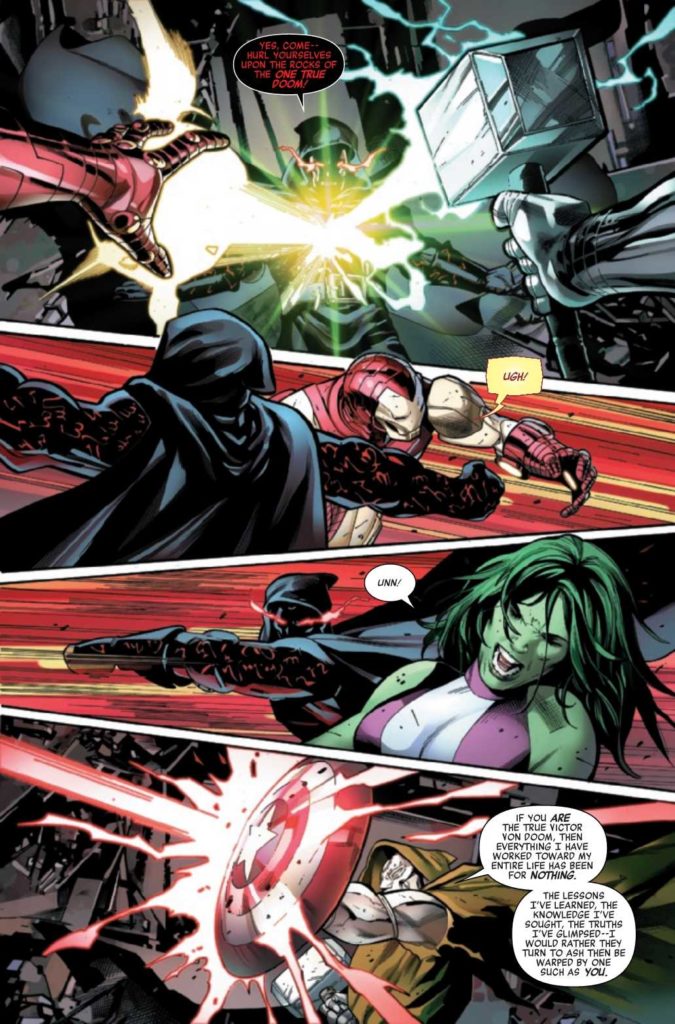 In order to save the world, the Avengers team with Victor Von Doom to take on his fully realized and much more powerful darker self. A battle that will force the team to leave some of their members behind. As they attempt to regroup, the good Doom is gifted with something that might turn the tide of the battle.
As the remaining Avengers attempt to stop Dark Doom from fulfilling his plan to destroy the world, Tony Stark is consumed not only with the battle, but also with the fact that he cannot remember anything about how it started and why.
The Story: I continue to be impressed with this series and the mystery at the heart of it. I love that we are dropped right into the action and the story emphasizes how dynamic and compelling the Avengers are as a team. I like how Doom is used in the story and the unknown narrator continues to be an interesting narrative choice that I want to see explored. Each issue makes me more intrigued to explore the bigger story.
The Art: Land delivers some beautifully detailed art throughout the issue. The visuals are thrilling and brilliantly showcase the characters.