Captain Marvel #42
Marvel Comics
Written by Kelly Thompson
Art by Andrea Di Vito
Colors by Nolan Woodward
Letters by Clayton Cowles
The Rundown: Carol and Lauri-Ell face an unknown threat as they also deal with the judgment of the Celestial.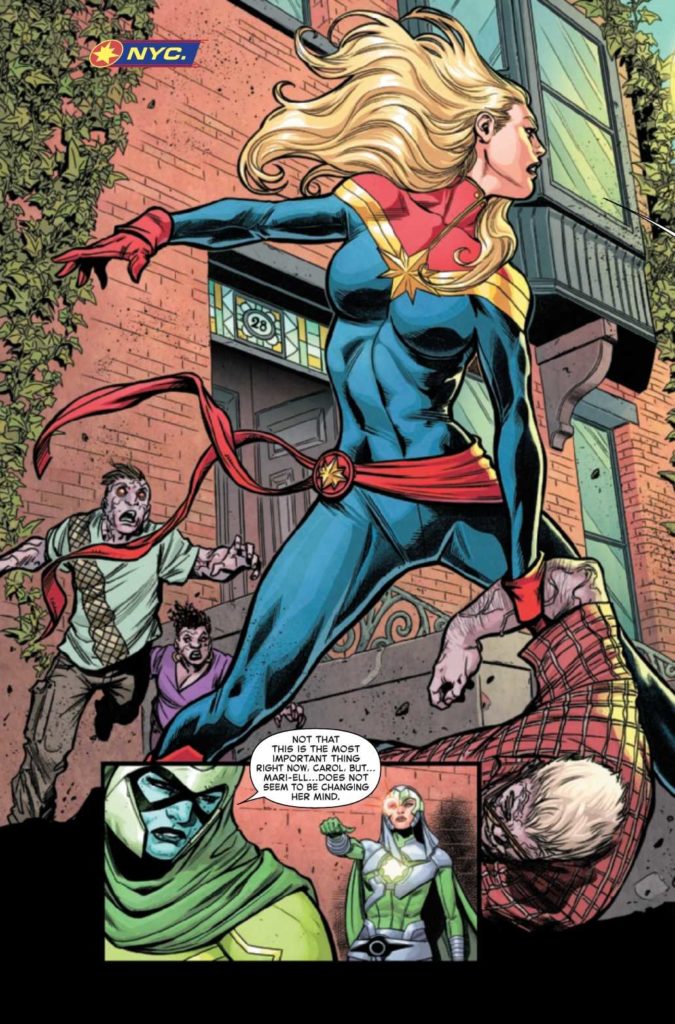 Outside of Carol's apartment building, Captain Marvel and her sister attempt to fight, but not kill a growing group of civilians infected with something that is turning them into violent zombies. At the same time, her neighbors seem unwilling to move to safety and her cat Chewie finds itself being judged as well.
As the heroes try to stop the infected without hurting them, an unlikely hero will decide to both help the people in Carol's building as well as find the source of the infection.
The Story: Thompson crafts an engaging story that has some unexpected and entertaining twists within it. I love that the story begins with the characters immersed in the action and how both of them recognize they are being judged. I also liked how the story changes focus to another character and how that character interacts not only with the world of the characters, but also the bigger arc the story is connected to.
The Art: Di Vito delivers some beautifully detailed art that does a wonderful job of showcasing the characters in the story and I loved everything that Chewie does in the story visually.