Star Trek #2
IDW Publishing
Written by Collin Kelly and Jackson Lanzing
Art by Oleg Chudakov
Colors by Lee Lougheridge
Letters by Clayton Cowles
The Rundown: Sisko attempts to learn more about the threat while dealing with another one with an old friend.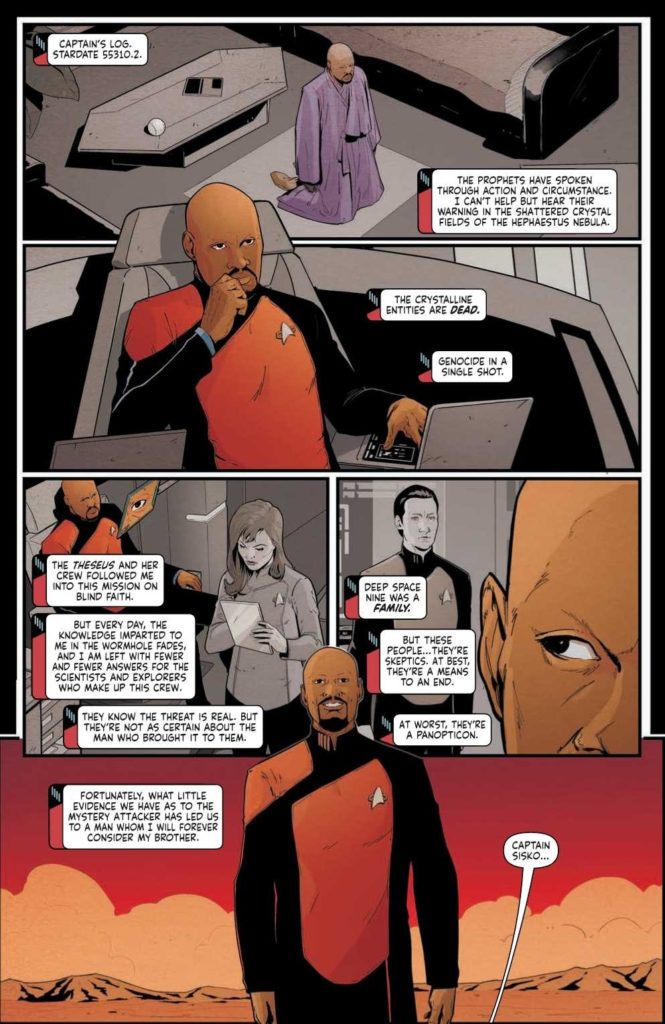 In the aftermath of the destruction of the Crystaline Entities, Sisko and the Theseus make a trip to the Klingon home world to see an old friend, Worf. In order to travel to a quarantined world to seek the creatures who created a deadly weapon, Sisko and his crew will have to convince Kahless to allow them to travel through Klingon territory. A meeting that will not have the desired outcome.
Sisko decides to go anyway. A move that causes concern from his first officer Data as Worf comes aboard to help. After discovering the world of the weapon's creators, Sisko and his away team face a dangerous meeting from the planet's inhabitants while Worf faces down a fleet of Klingon ships determined to stop them from leaving.
The Story: Kelly and Lanzing offer an intense and entertaining story in this issue. I particularly enjoyed how the tension between Sisko and his crew continues to play out. Including Worf in this issue is a great narrative move that bridges the gap between some of the characters and Sisko while adding great drama to the series. I look forward to seeing where this series goes next.
The Art: Chudakov delivers some beautifully detailed art throughout the issue. The visuals are fun, exciting and thrilling.