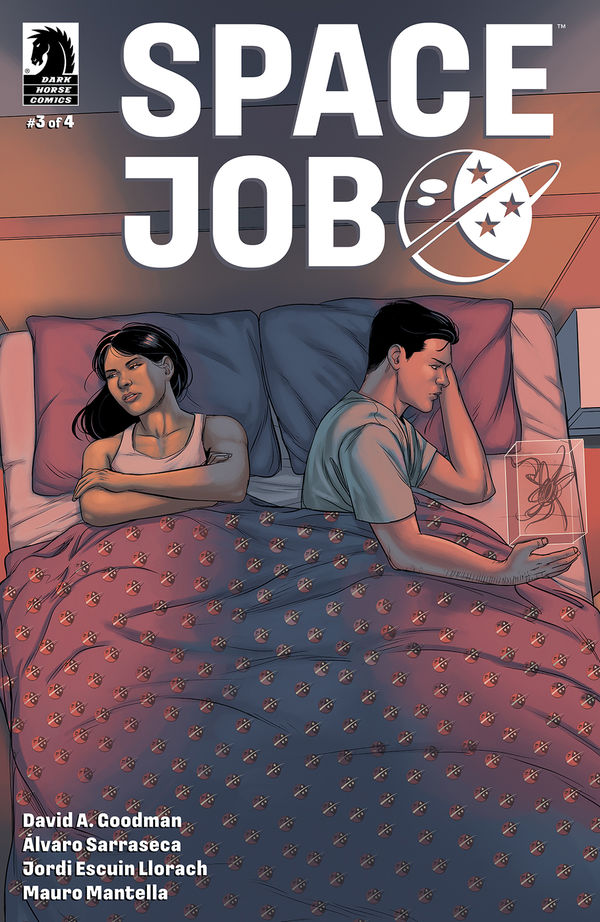 Space Job #3
Dark Horse Comics
Written by David A. Goodman
Art by Alvaro Sarraseca
Colors by Jordi Escuin Llorach
Letters by Mauro Mantella
The Rundown: Travis continues to look for a way off the ship as the Captain does everything he can to avoid his next mission.
The crew continues to deal with their interpersonal issues while the Captain does everything he can to avoid reporting for his next assignment. Everything including taking the ship close to a comet to avoid dealing with the ship coming to take its cargo.
At the same time, the Chief Medical Officer continues to deal with her crumbling marriage. Her husband continues to hide the fact that he's been taken over by an alien and the ship gets a new first officer in the most unusual way. A move that seals Travis' decision to leave as soon as possible.
The Story: Goodman continues to create an entertaining comedy of errors with a weird and interesting crew. I continue to enjoy the humor and satire within the story. The plot continues to take some entertaining twists along with revelations that I want to see explored. I enjoy the fact that the story is taking time to let the reader learn more about the characters and there is a sense that something is building within the story that has me coming back to read more.
The Art: Sarraseca delivers some great art. The story continues to be mainly about the characters and their interpersonal conflicts and I love that the art reflects that in the characters expressions and mannerisms.