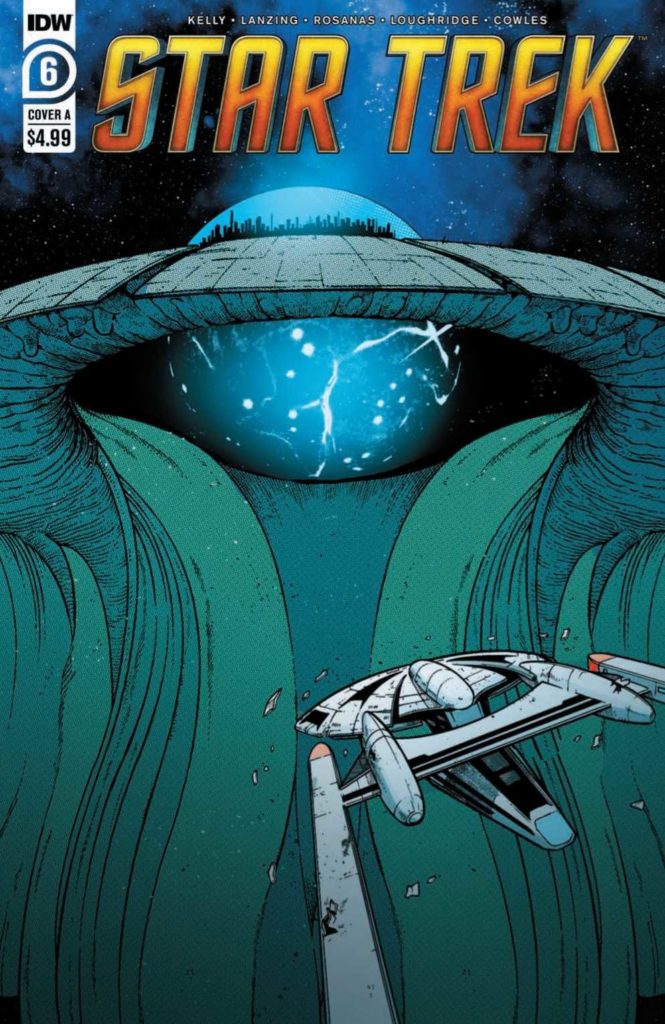 Star Trek #6
IDW Publishing
Written by Collin Kelly and Jackson Lanzing
Art by Ramon Rosanas
Colors by Lee Lougheridge
Letters by Clayton Cowles
The Rundown: An injured and angry god-city is on a mission to destroy Earth and the crew of the Theseus are the only ones that can stop it.
The god killer has been revealed and managed to escape leaving Sisko and his crew alone to stop the god-city of T'Kon as it decides to take out its anger on Earth. Traveling at warp speed, the Theseus is barely keeping up with the entity as Data works with the crew to find a way to breach transwarp to stop the entity and the destruction it's leaving in its wake.
At the same time, Sisko reaches out to the prophets, but they are not responding. Trapped on the surface of T'Kon, Beverly tries to bring Sisko back to himself in order to find a way to reconcile with Jake. An act that will have a profound impact on the events around them.
The Story: Kelly and Lanzing pull out all the stops with the action and thrills in this issue. There are some great character moments as well and I love the interactions between Beverly and Sisko. Data delivers some great moments as well and I love the reveals throughout the issue and how the story evolves the characters and their circumstances while teasing a bigger story I want to see more of.
The Art: Rosanas delivers some beautifully detailed art throughout the issue. The action is visually thrilling throughout and I love the art style and how it handles the rising action and tension.