Red Sonja Lord of Fools One-Shot
Dynamite Entertainment
Written by Mark Russell
Art by Bob Q and Katie O'Meara
Colors by Dearbhla Kelly
Letters by Hassan Otsmane-Elhaou
The Rundown: Prior to the events of the current Red Sonja story, this one-shot gives the reader a look into the history of the characters that surround Sonja along with their personal, professional and romantic motivations.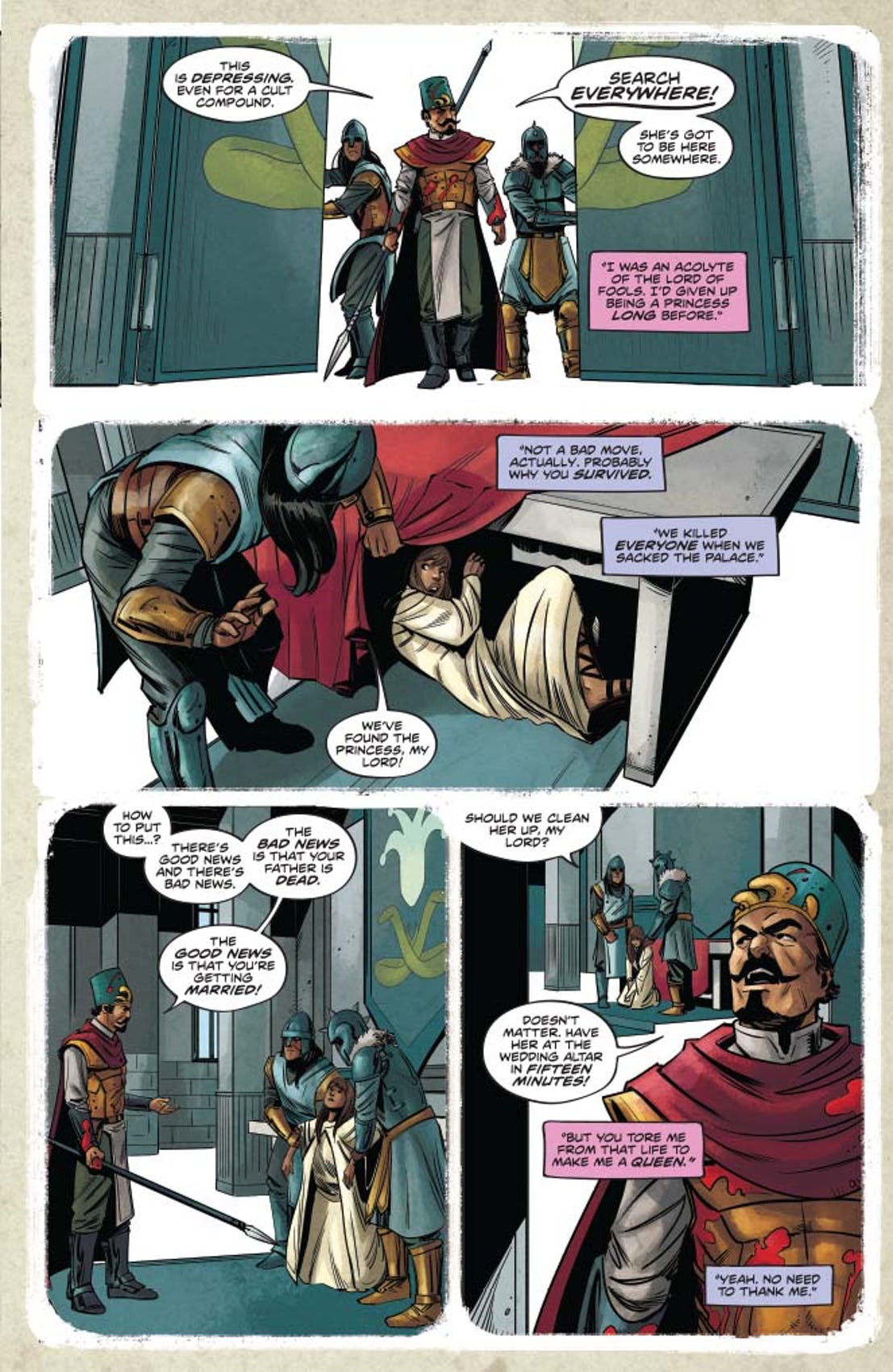 The rise of Dragan is showcased in the issue with his invasion and sacking of the Zamoran capital. His ambition to not only take the throne but to keep it legally leads him to search for the king's daughter who has locked herself away in a temple. After finding and marrying her, he is given a curse that forces him to constantly expand the empire. The priest who cursed him and the Queen share more than a few secrets as the Prince of the realm learns some bitter truths.
One of Sonja's advisors comes to the new Queen's tent to get some wine and spends some time telling Sonja the story of his life. More importantly, he tells her a tale of how he decided to always tell the truth no matter the consequences and he makes a point of telling her how dire those consequences turned out to be.
The Story: Mark Russell decides to take a step back from the action ramping up in the regular Red Sonja series and give the reader some back story on the characters introduced in this new arc. The stories are effective in giving a bigger picture perspective to Sonja's story as well as explain the behaviors and motivations of the characters themselves. Some stories are more interesting than others and those stories actually make you forget the weaker ones, but this is an interesting one-shot to flesh out the bigger arc.
The Art: Bob Q and Katie O'Meara present some great, beautifully detailed imagery in this issue. The minimal action gives the artists the freedom to concentrate on the character details and backgrounds.