Radiant Black #8
Image Comics
Written by Kyle Higgins
Art by Marcelo Costa
Colors by Natalia Marques
Letters by Becca Carey
The Rundown: The Radiant's fight for their lives against a deadly foe.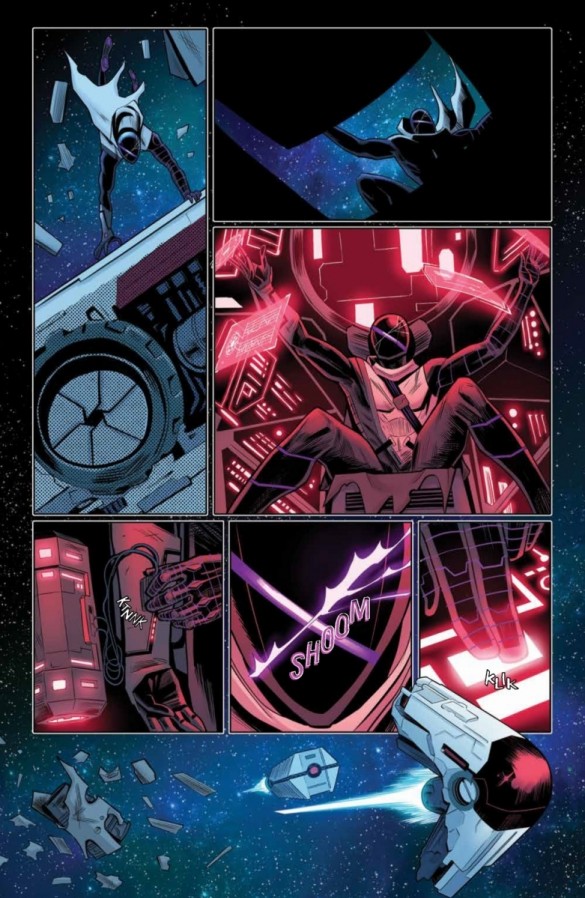 In the aftermath of their last battle, the Radiant's are split with Marshall and Eva winding up in Russia while Wendell and Satomi capture the being trying to kill them. While Marshall and Eva try to find a way to get out of Moscow, Eva reveals that she is too weak to transport them. After giving her some time and getting to know her a little better, Marshall is able to get her to find the others.
The mystery foe they're facing reveals that he is there to stop them and their presence on the planet has possible doomed it. After another fight, the Radiant's find themselves on the defensive and Marshall reveals a new and unexpected power.
The Story: Higgins ramps up the action in this issue and it works really well. The mystery continues to be interesting and the different personalities of the team are compelling. I was engaged with the narrative and found myself intrigued by the evolution in Marshall as a character. As the story progresses and evolves, I am interested in seeing where it goes next and how big it can get.
The Art: Costa delivers some great art throughout the issue. With the focus being on the action, there are some thrilling visuals on every page.