One-Star Squadron #4
DC Comics
Written by Mark Russell
Art by Steve Lieber
Colors by Dave Stewart
Letters by Dave Sharpe
The Rundown: Red Tornado faces a decision from the board and one of the employees will do something desperate.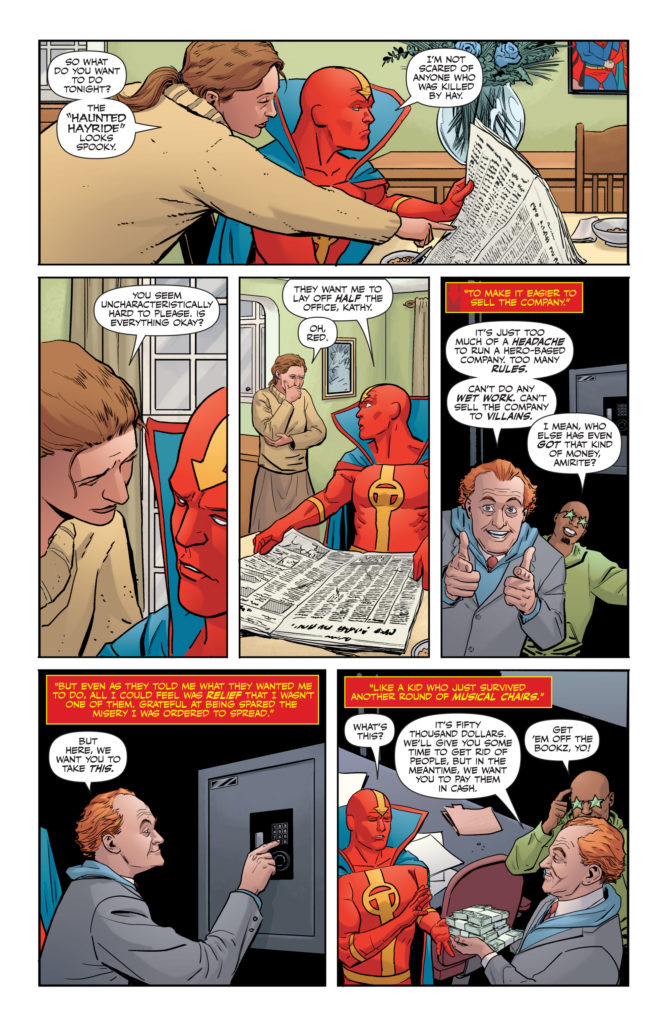 After barely dodging getting fired, Red Tornado wonders if he actually is being set up for something worse when he returns to the office. After telling his wife what the board wants him to do with half the office, Red finds himself in a moral quandary. To make matters worse, he doesn't know what this means for Gangbuster whose life he's trying to help find meaning again. The next day, Kara rides into work confident that she is going to be taking over the office and gets a rude awakening when she hears Red Tornado's announcement.
Things get awkward around the office when Kara learns about her position and people start jockeying for position with Red to keep from being let go. After making an announcement that will definitely ruffle feathers with the board, Minute Man makes a decision about his future as a hero. After learning that the company has been sold, Tornado returns to the office to find something shocking.
The Story: Russell continues to create a unique, fun and engaging world in this issue. The story has some real heart to it and I love the contrasting stories with Tornado's moral dilemma, Kara's disappointment and Gangbuster's decline. The story has some really tough moments that are peppered with great comedy and tone. I love the unpredictable nature of this story and cannot wait to see where it goes next.
The Art: Lieber's art perfectly captures the tone of this series and the expressive characters draw in the reader visually.