Justice League Dark #10
DC Comics
Written by James Tynion IV
Art by Alvaro Martinez Bueno
Inks by Raul Fernandez
Colors by Brad Anderson
Letters by Rob Leigh
The Lords of Order have Myrra in their clutches and they have decided that in addition to destroying all magical realms, they will offer the remaining magic users a choice.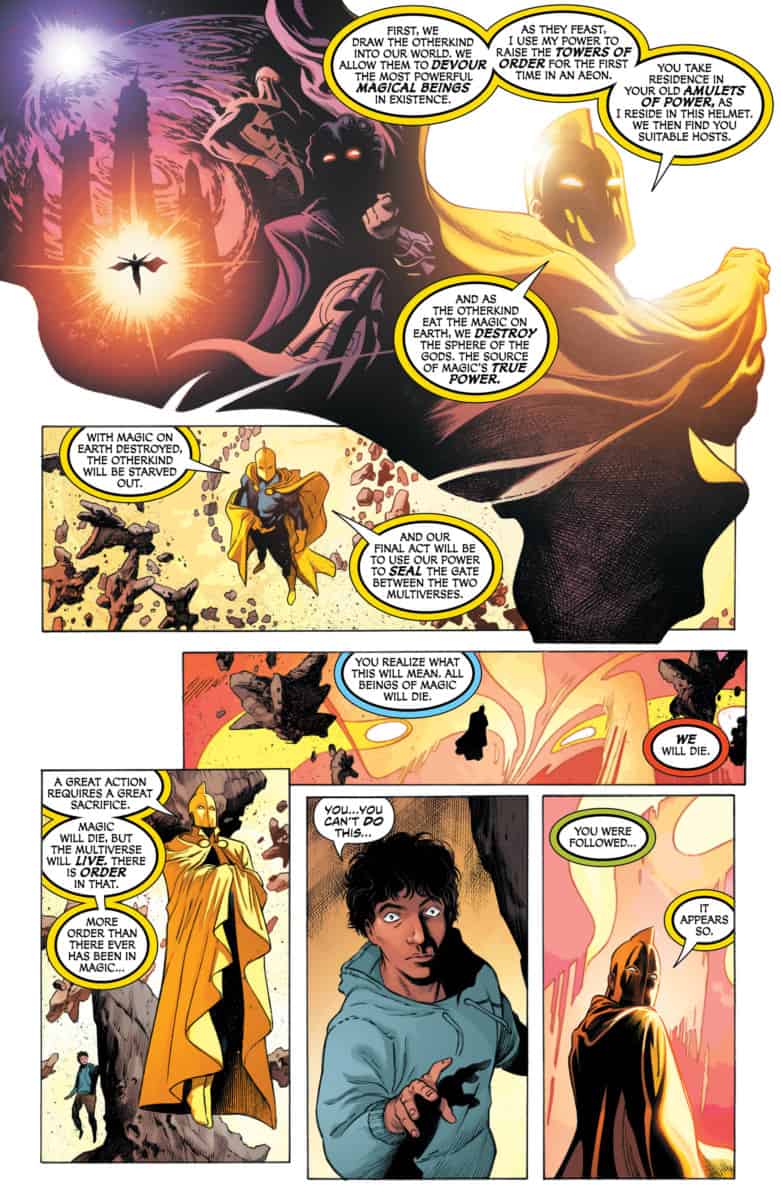 Khalid tells the others the story of how he came to be trapped in a pot. He tells them that Nobu gathered the rest of the Lords of Order and decided that they would end all magic in order to stop the Otherkind. With no thought to the ones who wield it for good or evil, they would stamp out all magical lands and every magical faction across the universe until only Order remains. It leaves, Bobo, Swamp Thing and the rest with only one decision; they have to abandon Myrra.
At the same time Zatanna faces the bitter truth about the path laid out for her life that she seemingly can't control. Going to Circe for help, Diana and Zatanna seek answers and find that Zatanna'a father has had knowledge of and a hand in these events for years. He's also had a hand in training and protecting someone close to Zatanna herself. As Zatanna finally comes to terms with her role in the story, she transports Diana and herself back home. They leave right as Circe gets a visit that confirms her motives are not what we think they are.
James Tynion IV goes deep with this issue and delivers a powerful and engaging story with this world and these characters. The connection he makes between Zatarra and Constantine are interesting to see and how Zatanna's path seems to be laid out is a great character moment for her to work through. Circe's arc is interesting as well as she seems to be playing both sides against each other and I want to see how she hopes to survive what the Lords of Order are doing to magic.
Alvaro Martinez Bueno delivers some engaging, powerful and beautiful artwork in this issue.