Gargoyles #2
Dynamite Entertainment
Written by Greg Weisman
Art by George Kambadais
Colors by George Kambadais
Letters by Jeff Eckleberry
The Rundown: When Maggie is abducted before giving birth, Goliath and his clan go on the hunt for those responsible.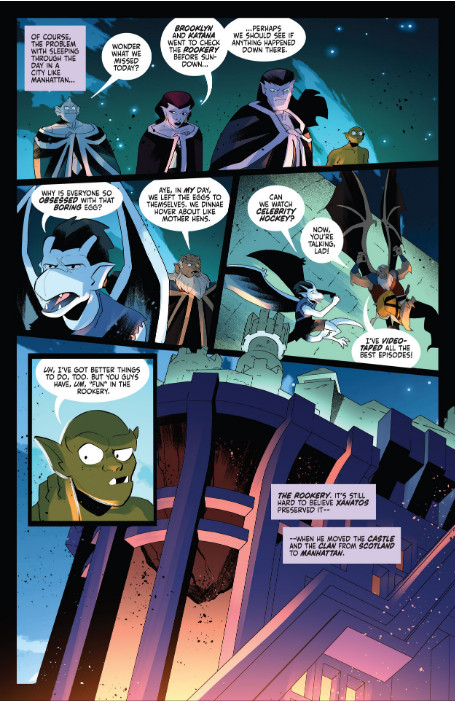 As the sun sets over the city, the Gargoyles awaken and begin the task of making sure that their clan and the rookery are safe. After receiving a message from Elisa baout the impending birth of her brother's child, Goliath and a small group take to the skies to greet the new arrival.
Unfortunately, they arrive too late and discover everyone knocked out. When Derek awakens to find Maggie gone, he flies into a rage as he and the gargoyles search out who they think is responsible. Unfortunately, their instinct is mistaken as Derek races to confront David Xanatos. At the same time, another enemy is released determined to get back the power he lost.
The Story: Weisman continues to bring fans back into the world of Gargoyles with a story that not only ramps up the tension, but also expands the danger for the characters. There is some great intensity throughout the plot and an immediacy of the story that drew me in as a reader. I love the reveal at the end of the issue and look forward to seeing how it plays out in this arc.
The Art: Kambadais delivers some intense, stylish art throughout the issue. The action and intensity of the story is brought to brilliant life through the imagery.