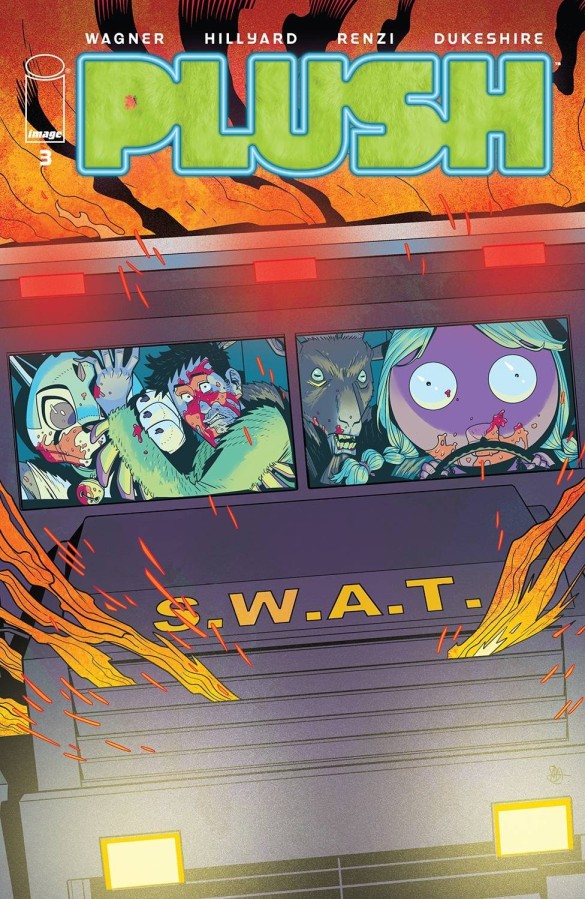 Plush #3
Image Comics
Written by Doug Wagner
Art by Daniel Hilyard
Colors by Rico Renzi
Letters by Ed Dukeshire
The Rundown: Devin is busted out after a violent rescue and taken in by a unique group.
In the aftermath of their violent rescue, Devin is invited to come with Scratch and the others as they steal a SWAT van and hit the road. The sheriff makes his way back to the station and discovers the carnage that was left behind along with the two remaining deputies. Determined to get Devin back, he and is deputy track down the stolen van in the woods.
At the same time, Devin is introduced to the house the furries live in and learns about the grounds and their history as he deals with his feelings for Edie. Feelings that could wind up with him being another trophy on the wall of his new surroundings.
The Story: Wagner continues to craft a fun, funny and violently surreal story in this issue with a plot filled with interesting characters and a wild world that draws you in. I like the characters a lot and there are so many strange moments that are endearing in a weird way. I find myself invested in this tale and cannot wait to see where it goes next.
The Art: Hilyard delivers some beautifully detailed and disturbing art throughout the issue and I love the style of the art and its characters. There are small moments that stuck with me visually and I enjoyed that a lot.