WildC.A.T.s #2
DC Comics
Written by Matthew Rosenberg
Art by Stephen Segovia
Colors by Elmer Santos
Letters by Ferran Delgado
The Rundown: A series of events will force Halo to reveal themselves.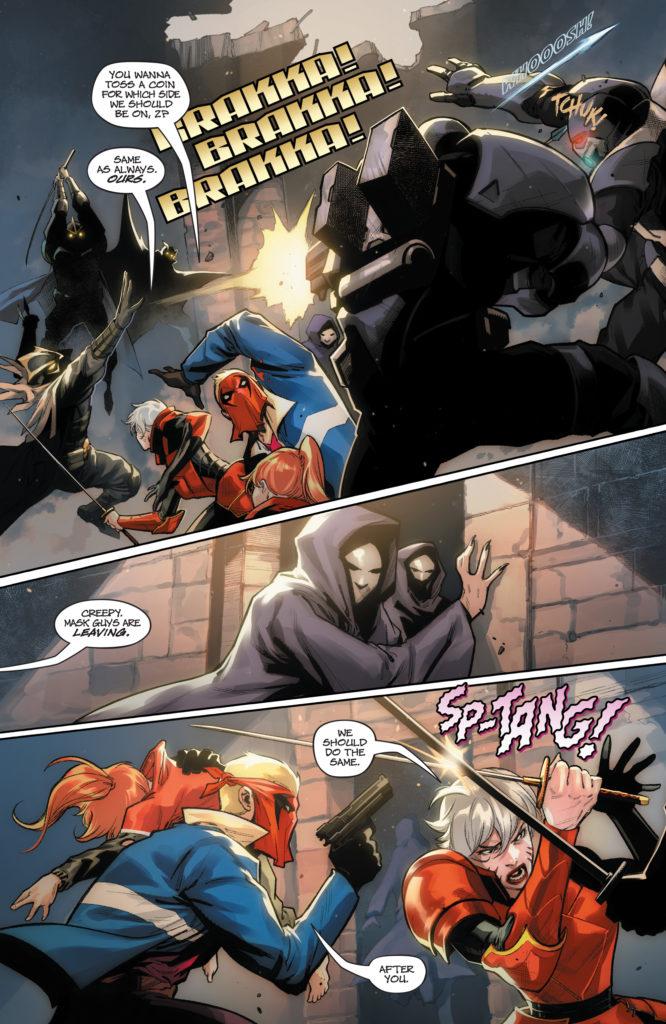 Grifter and Zealot are trapped beneath a building with the Court of Owls around them, their Talons on the attack and Green Arrow hunting them as well. After fighting them off and watching the Court escape, Cole and his team are finally able to escape. In the aftermath, Marlowe calls for a meeting with the department heads of the Halo Corporation and Cole decides to disobey orders and go hunting for the Court with Voodoo.
That night, Marlowe attends a party and finds himself the victim of an assassination attempt thwarted by Spartan. An attempt that reveals members of the team and forces Marlowe to make a decision about the future of the Halo Corporation. A decision that will prompt him to reveal the newest superhero team in the world.
The Story: Rosenberg crafts an entertaining and exciting story in this issue. I love the Court of Owls introduction to the plot and how Grifter has become obsessed with them as a threat. The story has great tension throughout and I am thrilled by the characters as well as the mystery of what the Halo Corporation is up to. The series is off to a great start and I cannot wait to see where it goes next.
The Art: Segovia delivers some beautiful imagery throughout the issue. The art is fantastic and the action is visually thrilling.