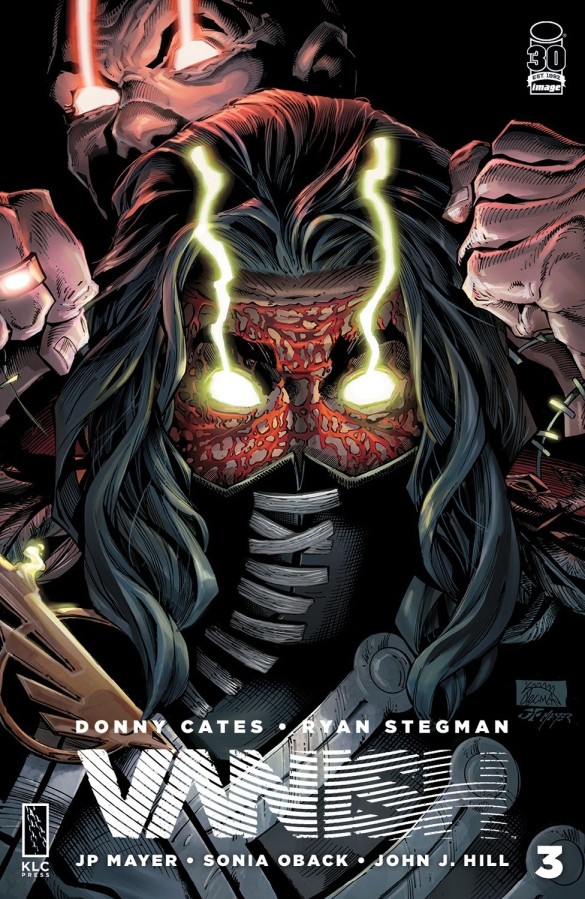 Vanish #3
Image Comics
Written by Donny Cates
Art by Ryan Stegman
Inks by JP Mayer
Colors by Sonia Oback
Letters by John J. Hill
The Rundown: Oliver continues his hunt and it is getting all the wrong kinds of attention.
An impaired Oliver finds himself in a fight with another person from his past. Another acolyte of Vanish that has come to this world and is posing as a superhero. After managing to stop the attack for a short time, he finds out quickly that the woman's twin brother is also on the scene and the two try to stop him, but not kill him.
Oliver takes on the pair, but realizes too late that he is being watched. With his battle playing out on the news, Ely calls Deacon to learn the truth. At the same time, Oliver's battle unleashes a lust to consume magic within him and his next target has magic to spare.
The Story: Cates delivers an exciting and entertaining story in this issue with a character that is layered and tragic. I love seeing that Oliver is not a perfect hero and his decisions are flawed in ways that make the drama and tension more engaging. There is great action throughout the issue and I love how his mission is taken out of the shadows and what potential blowback he will face because of it.
The Art: Stegman delivers some beautifully detailed art throughout the issue. The visuals are striking and compelling and I love the visual style of this issue.