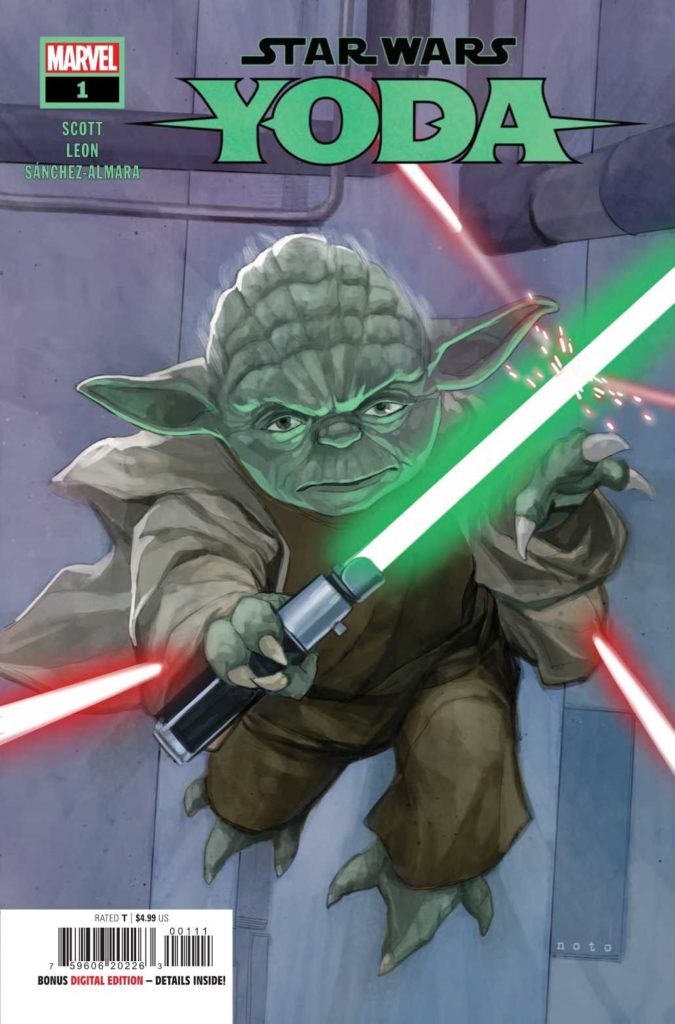 Star Wars Yoda #1
Marvel Comics
Written by Cavan Scott
Art by Nico Leon
Colors by Dono Sanchez-Almara
Letters by Joe Caramagna
The Rundown: Yoda thinks back on a mission from his past as he settles into his exile.
Master Yoda has settled into his life on Dagobah and his meditation is interrupted by a voice within the force. A voice that makes him think back on a mission from years ago when the people of a small outlying planet found themselves beset by raiders who routinely took their supplies and people. When a young one named Bree reaches out with abandoned technology to call for help, the Jedi Council meets to discuss the matter.
A meeting where Yoda will decide to investigate the matter on his own. After defending the village from the raiders, Yoda makes the decision to stay on the planet and learn about its people. Unfortunately, the threat of the raiders is not over.
The Story: Scott crafts an engaging and thrilling story in this first issue. The story does a wonderful job of showcasing Yoda as both a warrior and observer. The plot has a great sense of pace and character and everything from the characters to the themes is engaging.
The Art: Nico Leon delivers some great art in the issue. The action is thrilling and the characters look fantastic.