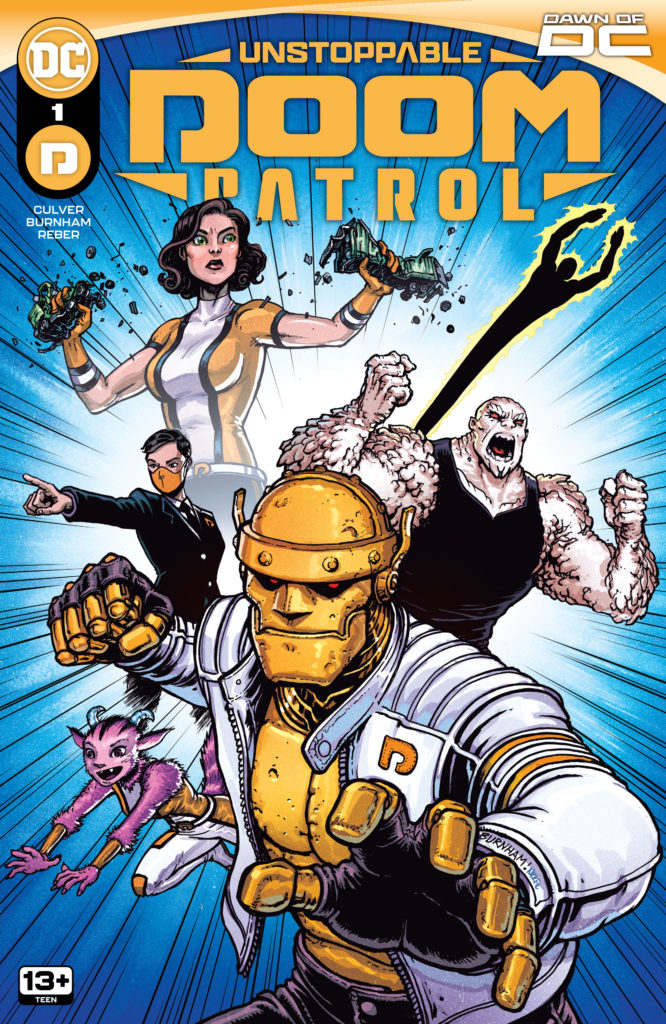 Unstoppable Doom Patrol #1
DC Comics
Written by Dennis Culver
Art by Chris Burnham
Colors by Brian Reber
Letters by Pat Brosseau
The Rundown: The Doom Patrol heads to Gotham as an old enemy faces betrayal.
The Doom Patrol travels to Gotham City and gets the reception they expected when they attempt to help a new metahuman who decided to get some quick cash by letting himself be experimented on. Their battle with the companies security as well as the the metahuman experiments themselves will get the attention of Batman who clashes with the team's new leader.
At the same time, Brain and Mallah battle their way through the mountains to find the hidden base of an old colleague. When they finally breach the defense and make their way inside, Brain will discover that he has been betrayed. A betrayal that could lead to something devastating for the world.
The Story: Culver crafts an interesting story in this first issue with a lot of conflict. As a fan of Doom Patrol, the one thing the story is missing is the edge that made these characters so interesting. I don't get a sense of the unique storytelling that sets Doom Patrol apart from other series and everything in the issue felt too laid back and reserved. There are the seeds of something interesting in the issue especially with Jane, so I would probably read the next issue to see if anything in it connected with me.
The Art: Burnham delivers some great visuals throughout the issue. I really like the visual style and wish that the story matched the intensity of the art.