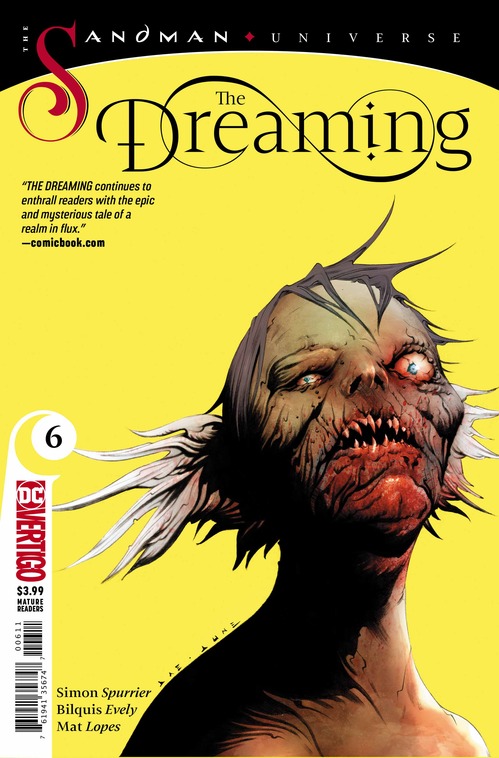 The Dreaming #6
DC Comics/Vertigo Comics
Written by Simon Spurrier
Art by Bilquis Evely
Colors by Mat Lopes
Dora's world is being torn apart by Judge Gallows' new order. Not only has he been keeping her off balance with his words, but he has captured everyone for the purposes of crafting something sinister to keep himself in power.
After receiving some much needed advice from Cain, Dora gets off the mat and goes after the Judge's minions in an attempt to stop the man himself. After she takes them out and prepares for the Judge, Mervyn reveals something that will connect him to Dora's missing memories.
As everyone and everything begins to defy both convention and expectation, a new force begins to emerge that could change everything in the Dreaming going forward.
Dora continues to be a dynamic and interesting character in this series and especially, this issue. Spurrier finds clever and interesting ways to move her story and the plot along. Connecting her story to Mervyn is a brilliant move and adds different layers to her journey through the Dreaming as well as her interaction with others. This issue is triumphant and filled with energy.
It has an immediacy that helps move everything interesting about the story forward in a way that engages the reader. There is a lot of dynamic action in this issue and Spurrier ends this dramatic, brilliant and entertaining issue with a cliffhanger that opens the door to bigger, more intriguing questions to come.
Bilquis Evely's art is astoundingly beautiful. Every page was a visual feast and there was never a moment when the art wasn't in lock step with the pace and tone of the story. There was so much to enjoy visually in this issue.