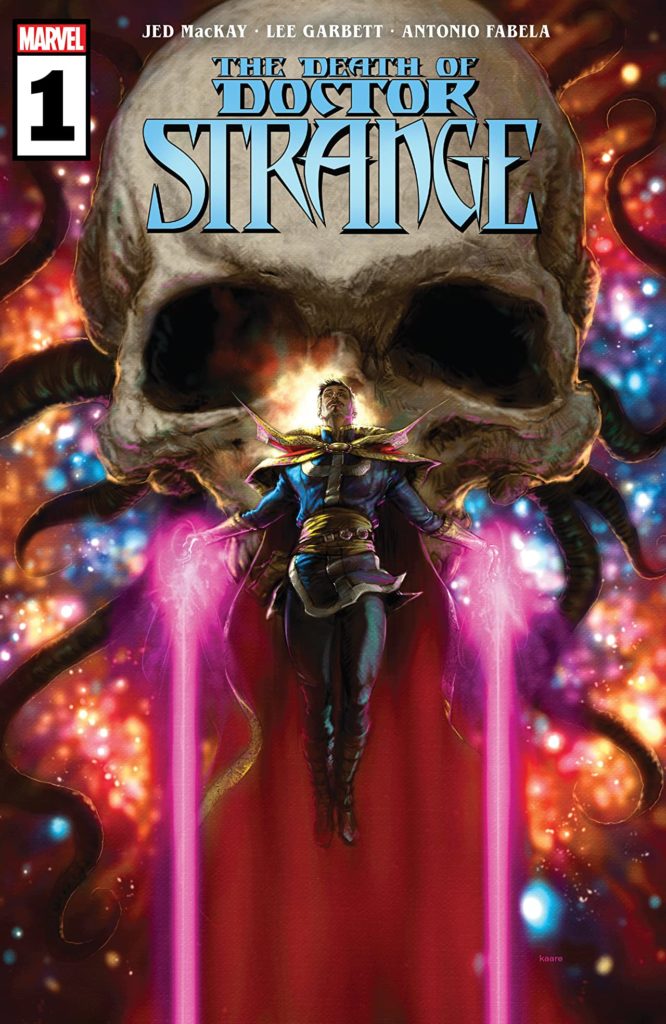 The Death of Doctor Strange #1
Marvel Comics
Written by Jed MacKay
Art by Lee Garbett
Colors by Antonio Fabela
Letters by Cory Petit
The Rundown: Doctor Strange investigates a series of odd coincidences before facing his deadliest opponent.
Strange contemplates an ancient legend as the demands of life, and Bats, force him out of bed to begin his day. After taking Bats for a walk, Strange returns to the hospital to prep for surgery. In its aftermath, another issue arises and this time it requires the skills of the Sorcerer Supreme. As he comes upon a man in crisis, Stephen reaches out to try to help him. After discovering that the man has taken power he cannot control, Strange tries to sever the connection.
Strange's next trip is to the Academy to speak to the students about his role and it's importance to the world. When Doyle informs him that there is a problem in the Dark Dimension, Strange begins to investigate. Sensing a connection between dimensional events, Strange begins to investigate, but his investigation will be cut short by an unexpected visitor and a tragic revelation.
The Story: MacKay crafts a brilliant and poignant story for Strange in this issue. There are great moments of personal revelation and a great mystery that keeps the reader engaged at every turn. The title suggests the outcome of the story and every moment within it is filled with anticipation, but the plot moves smoothly. Not only is the mystery intriguing, but the humanity of the character is brought through. I love the twist at the end of the issue and cannot wait to see where the story goes next.
The Art: Garbett delivers some beautiful imagery throughout the issue. The art is filled with brilliant detail and the world of the character is varied and thrilling.