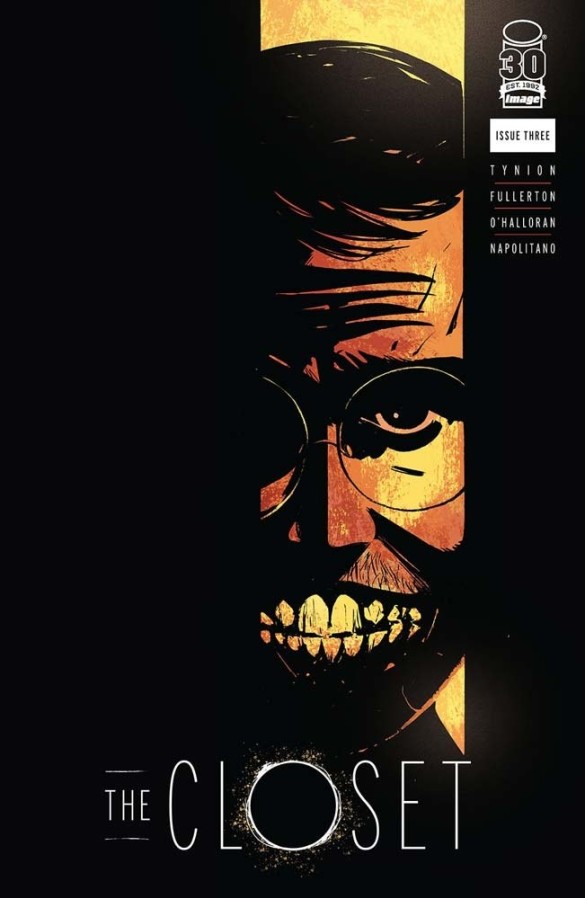 The Closet #3
Image Comics
Written by James Tynion IV
Art by Gavin Fullerton
Colors by Chris O'Halloran
Letters by Tom Napolitano
The Rundown: Thom and Jamie get closer to their destination and Thom's selfishness gets worse.
After leaving his friend's home, Thom needs to take some time to himself and decides to have a seat on his car and have a few drinks while his son Jamie sleeps in the hotel room. His contemplation is interrupted by a stranger who decides to sit down and listen to his story.
In the aftermath, the pair finally make it to Portland and as Thom and his wife try to make things civil, Jamie goes to his new room to discover that the thing he fears the most has come with them. Something his parents fail to notice as they continue to be wrapped up in their own drama.
The Story: I continue to love what James Tynion IV is doing in this series. The story seems to revolve around Thom as his continued inability to think about anyone but himself. Something that is brought into reality by the man who listens to his story. The story is more layered than that with Jamie's real terror falling into the background when it should be the focus. This is a brilliant storytelling concept from James Tynion IV. It evokes some real terror and emotion from me as a reader.
The Art: Fullerton delivers some beautifully emotional art in the issue. The use of darkness and shadow is visually beautiful and adds to the emotion of moments. I love the way both characters and locations are bathed in darkness because of the mood that those moment convey.