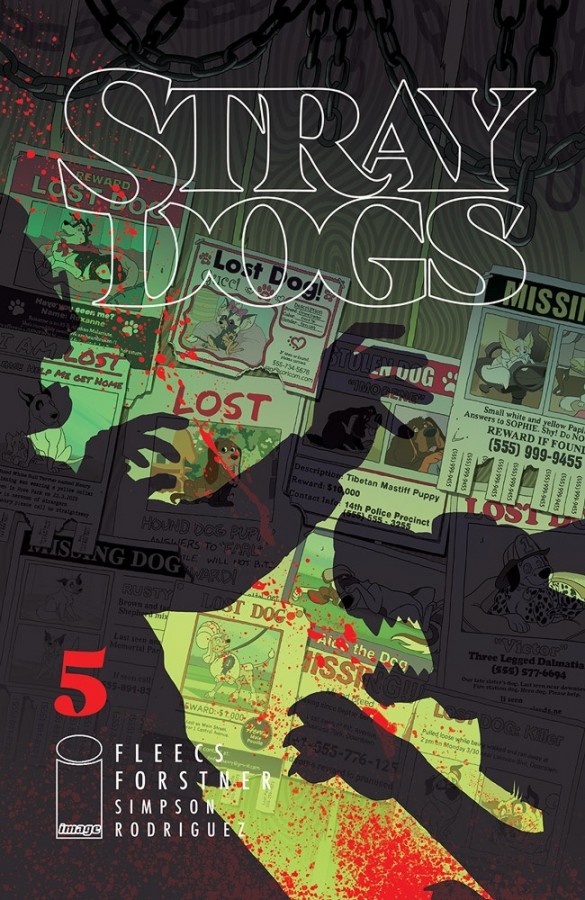 Stray Dogs #5
Image Comics
Written by Tony Fleecs
Art by Trish Forstner
Colors by Brad Simpson
Layouts by Tone Rodriguez and Chris Burnham
Flats by Lauren Perry
Letters by Gabriela Downie
The Rundown: One of the dogs learns the truth about their master and it becomes a fight for survival.
The master of the house is in line for a reckoning when Earl finally remembers the circumstances that brought him to the house. To make matters worse, he discovers what the master does to dogs that get out of line and that information forces the older dog to act both out anger and survival. Taking on the master, Earl manages to incapacitate him long enough for him to escape the master's special room and warn the other dogs.
With time running out and the master on the warpath, an unlikely member of the pack takes action to give the dogs time to escape the house. One dog will make the ultimate sacrifice to let the others free and they find themselves facing their injured and armed master on one side and the fury of a busy highway on the other.
The Story: Fleecs brings this story to a brilliant and exciting conclusion. There are thrills throughout and suspense across every page. The characters have so much personality that their interactions make you engage with their struggle. I love the fact that sacrifices are made throughout and there is no clean ending to the story. Even in the conclusion, there is a bittersweet element that is both heartening and heartbreaking. A wonderful conclusion to a wonderful, suspenseful and surprising series.
The Art: Forstner delivers some beautiful art throughout this issue. The animation style of the art was always disarming and brilliant considering the subject matter, but the final issue manages to keep the charm of the character design while mixing in some exciting and suspenseful imagery.