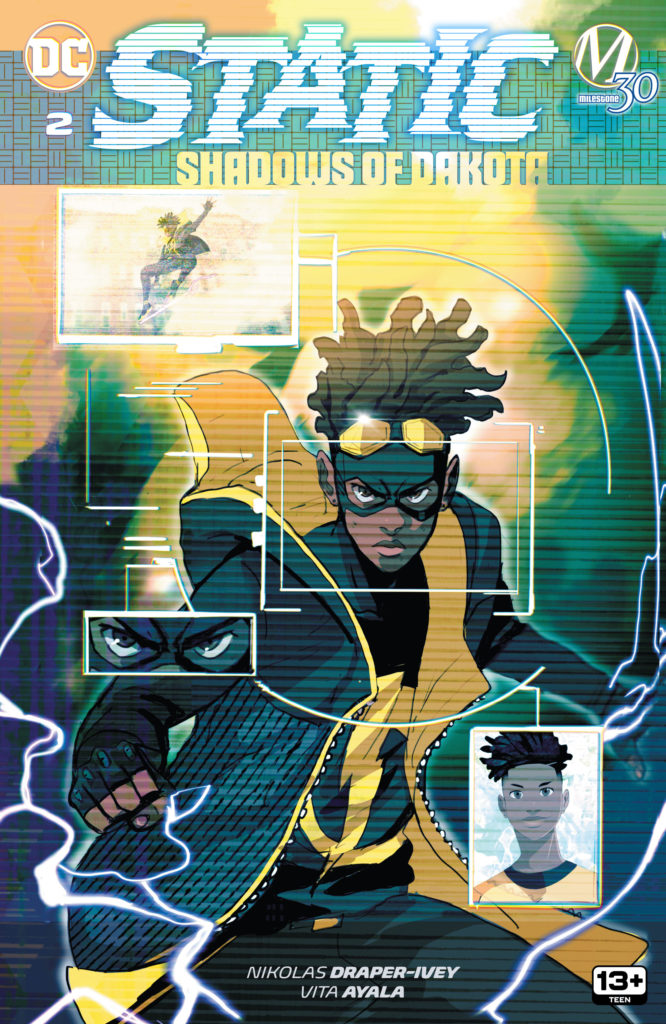 Static: Shadows of Dakota #2
DC Comics/Milestone
Written by Nikolas Draper-Ivey and Vita Ayala
Art by Nikolas Draper-Ivey
Colors by Nikolas Draper-Ivey
Letters by Andworld Design
The Rundown: Virgil tries to protect his fellow bang babies as the threat against them grows bolder.
While shadowy figures continue to kidnap and experiment on people who were affected by the protest, Virgil tries to help a promising young man who is trying to move towards his own future while also dealing with his emerging powers.
When Virgil gets a call from his father that they are preparing to open the community center to help others affected by the gas attack, he races to help as well. After discovering someone else he knows has powers, he offers to help only to be interrupted by the same group looking to kidnap bang babies. A group that Virgil decides to suit up to defeat.
The Story: An entertaining and thought provoking story from Draper-Ivey and Ayala. The plot has some great mystery within it and there is great character development with Virgil and the rest of the characters. I love how the story continues to grow throughout the series and include themes that make for a compelling world to explore. There is some great action in the story and everything in the series seems to be building to something interesting.
The Art: Draper-Ivey delivers some beautiful visuals throughout the issue. The visual tone of the art perfectly matches the narrative and the evolving world of the characters.