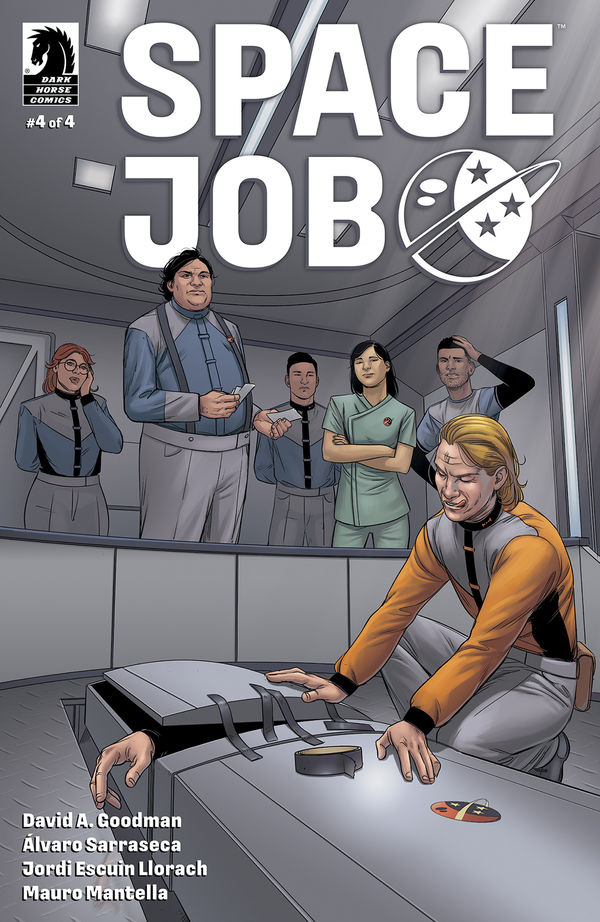 Space Job #4
Dark Horse Comics
Written by David A. Goodman
Art by Alvaro Sarraseca
Colors by Jordi Escuin Llorach
Letters by Mauro Mantella
The Rundown: The crew deals with the new first officer as they prepare for the funeral of the last one.
Operations officer Travis has one foot off the ship as he waits for a transport that will get him away from the ship and into a new opportunity. One that will also take him away from some unrequited feelings for one of his shipmates. At the same time, he has to convince the Captain to give a eulogy for the previous first officer after the new one decides to hold a funeral in the torpedo bay.
After the disaster of a funeral, the Captain finds his command in jeopardy when the Admiral discovers they are hiding from their next assignment. The Chief Medical Officer continues to be unaware that her husband has been possessed by an alien while the ship accidentally blows up a comet they were supposed to be studying.
The Story: Goodman brings this story to an entertaining and hilarious conclusion. The tone is great and drew me in as a reader as I watch the misadventures of this motley crew. There are some great comedic moments throughout the story and I love how everything culminates into a moment that makes me want to see more from this world and these characters.
The Art: Sarraseca delivers some great art in the issue. The visual style is great for the comedic elements of the story and I really enjoyed the alien design at the end of the issue.