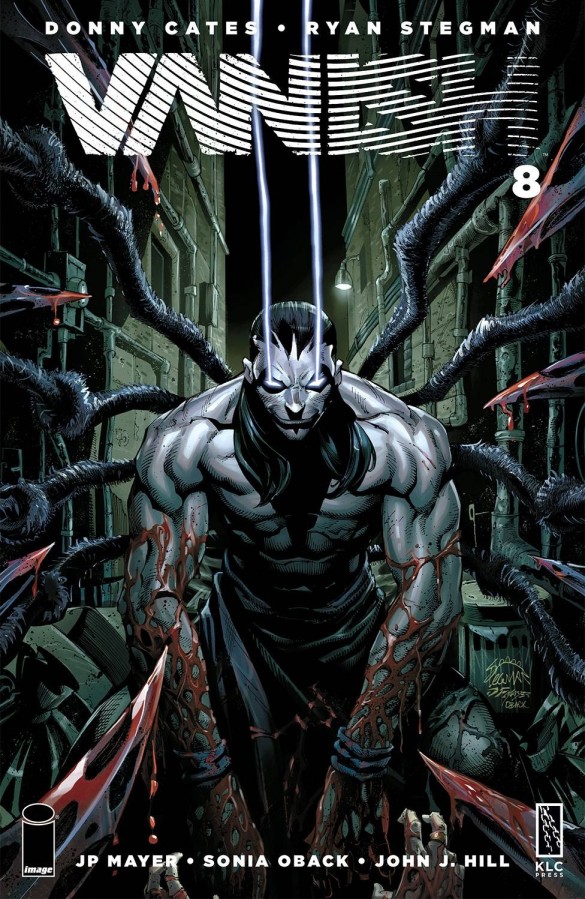 Vanish #8
Image Comics
Written by Ryan Stegman and Donny Cates
Art by Ryan Stegman and V Ken Marion
Colors by Sonia Oback
Letters by John J. Hill
The Rundown: Oliver's battle against an old enemy will reveal a dark alliance.
In order to defeat Diabolus, Oliver is brought into the memories of his former nemesis who is now sharing his mind. After learning more about how he suffered, he is given a choice in how to defeat a creature who is determined to destroy him.
After taking a severe beating from Diabolus, Oliver is shocked to discover that nothing he is doing is working. It will take an unexpected intervention to end the conflict. An intervention that will lead to a dramatic confrontation between Oliver and the woman he loves.
The Story: Stegman and Cates bring this arc to an action packed, thrilling and exciting conclusion. The story takes some really interesting turns throughout and the internal struggle between Oliver and Vanish makes for great drama. I loved learning more about the characters and their internal struggles and the story comes to a cliffhanger that makes me excited to see explored.
The Art: Both artists brings fantastic details to every page and panel of this issue. I love the art and how bold and exciting it is. It perfectly captures the tone of the story being revealed.