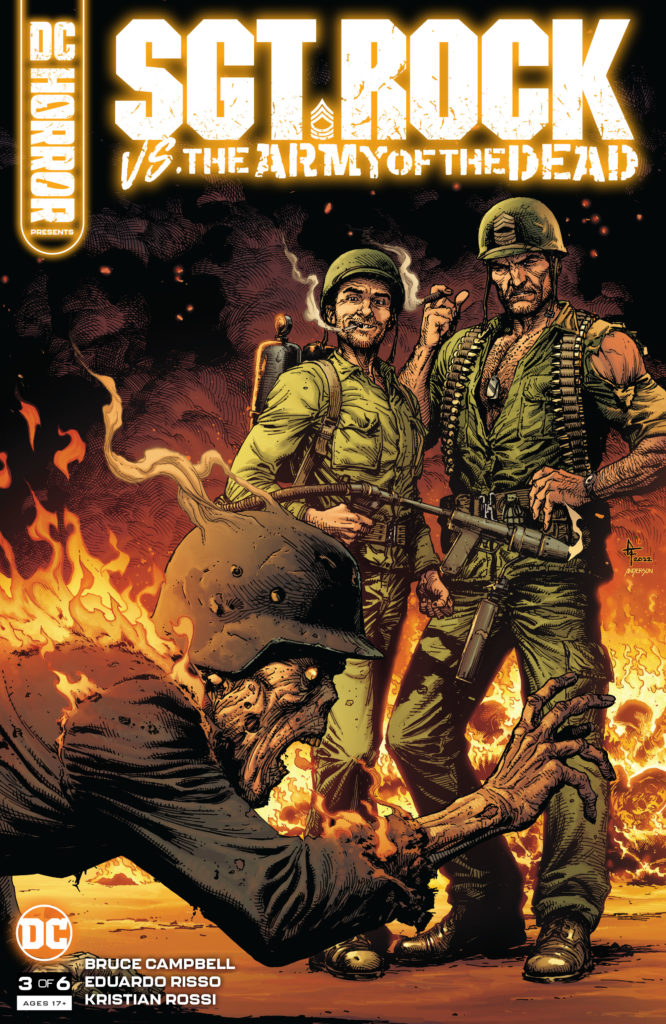 Sgt. Rock vs the Army of the Dead #3
DC Comics
Written by Bruce Campbell
Art by Eduardo Risso
Colors by Kristian Rossi
Letters by Rob Leigh
The Rundown: Rock and company get a dangerous mission that will take some interesting turns.
Hitler meets with his doctor and decides that he wants to start taking the drug that is being used to reanimate the dead soldiers, but his doctor is apprehensive about what could happen to the man. At the same time, Sgt. Rock and the rest of the company are brought into a briefing to go over the next phase of their plan.
Rock breaks his team up with two missions. One to flush out the Nazis from the factory to collect the doctor and the other to take out the facility itself. Both teams move in and take on some heavy resistance as they test out some new equipment in the field.
The Story: Campbell delivers great thrills and action throughout the issue. The characters continue to be fun and compelling. The setting continues to be engaging and the story delivers on tension, action and thrills on every page.
The Art: Risso delivers some beautiful art in the issue. Risso manages to craft some visually tense moments that capture the tone of the story while also delivering blistering action that captures the eye and the imagination,