Scarlet Witch #6
Marvel Comics
Written by Steve Orlando
Art by Lorenzo Tammetta and Sara Pichelli
Colors by Frank William
Letters by Joe Sabino
The Rundown: Wanda has a family reunion when an intergalactic visitor comes through the Last Door.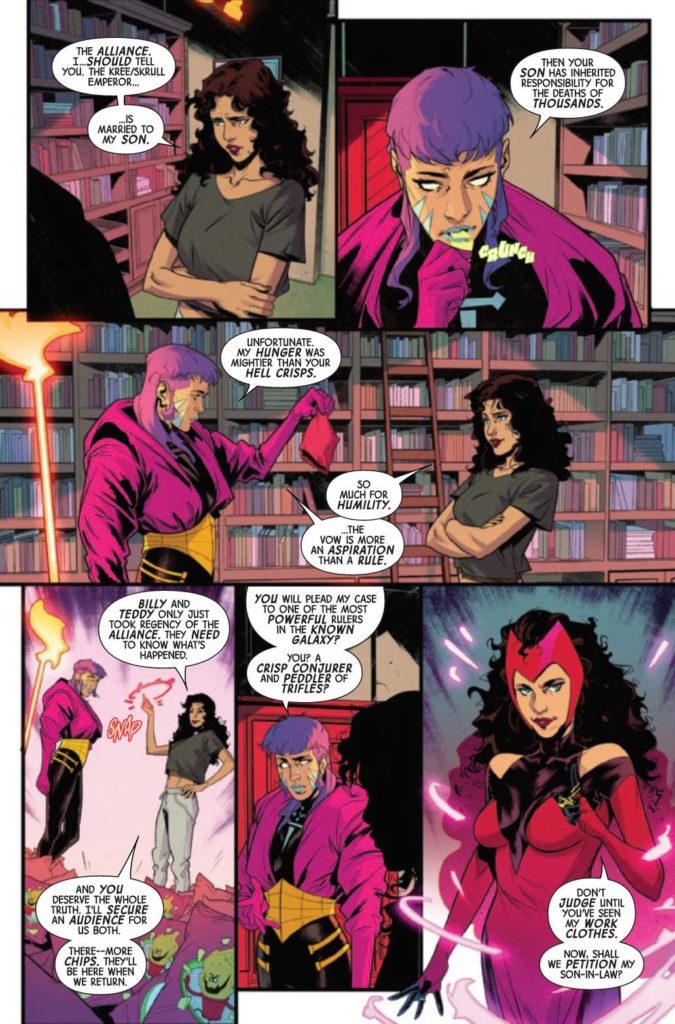 An intergalactic warrior named Ganymede is fighting for her life against Pursuers from the Kree/Skrull alliance when she finds herself transported through the Last Door into the shop and presence of Wanda Maximoff. After a tense moment between the two women, Wanda offers to take the warrior to see the leader of the alliance, her son in law Dorrek-Vell. After another tense standoff between Ganymede and Wiccan, Wanda intervenes in order to learn the truth.
After discovering the truth about the death of Genymede's people, Wanda and her new charge travel to the planet of the Blood Skrulls who are responsible. In the aftermath of the battle, Wanda returns home receives another unexpected visitor.
The Story: Orlando delivers a great adventure in this issue. The story is filled with great action and thrills as well as great moments between Wanda and Billy. I like the dynamic with Ganymede and the tension throughout the story is great. The issue has some great build up and comes together beautifully to a finale that makes me excited to pick up the next issue.
The Art: Tammetta and Pichelli deliver beautiful art throughout the issue. The visuals are bright, detailed and filled with great action and energy.