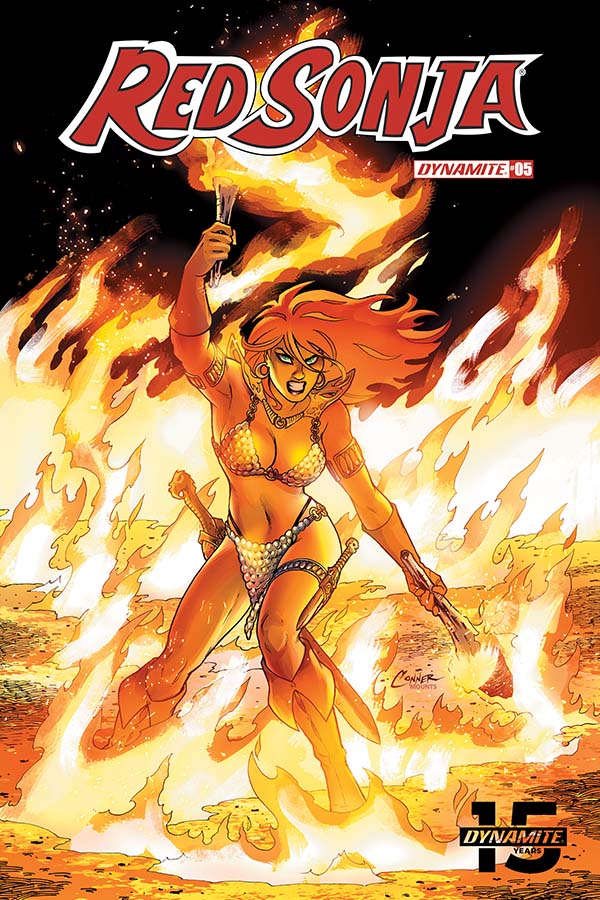 Red Sonja Vol 5 #6
Dynamite Entertainment
Written by Mark Russell
Art by Mirko Colak and Robert Carey
Colors by Dearbhla Kelly
Letters by Hassan Otsmane-Elhaou
The Rundown: Sonja will have to recall the final tactical lesson she learned in order to find a way to save her people including her captured cousin.
Red Sonja recalls her time with War Master Domo and the lessons he tried to teach her about patience. When a potential coup begins to unfold in the kingdom, Sonja decides to investigate and get the information necessary to stop the plot and help her teacher. Unfortunately, she learns too late the lesson Domo was trying to teach her and her education comes with a high cost.
In the present, Sonja faces the harsh reality of fighting a war against Dragan. With her cousin captured and supplies dwindling on both sides, Dragan makes an offer of peace to Sonja. One that will end the hostilities, but is Red Sonja really ready for marriage?
The Story: Mark Russell tells an entertaining and engaging story in this issue that finds Sonja both using her head to work out a solution, but also being in her head about the decisions she's making. Having her deal with the contrast between her barbarian spirit and her practical mind is interesting and the slow build up throughout the issue helps to build on the lesson Sonja is recalling and how she can apply it to her current situation.
The Art: Mirko Colak and Robert Carey bring some well detailed and vibrant art to this issue. Even with the absence of action, the art still conveys movement and adventure.