Nightwing #95
DC Comics
Written by Tom Taylor
Art by Bruno Redondo
Inks by Caio Filipe
Colors by Lucs Adriano
Letters by Wes Abbott

The Rundown: Nightwing confronts Blockbuster in attempt to rescue Melinda Zucco, and later teams up with his alliances to take down the crime boss.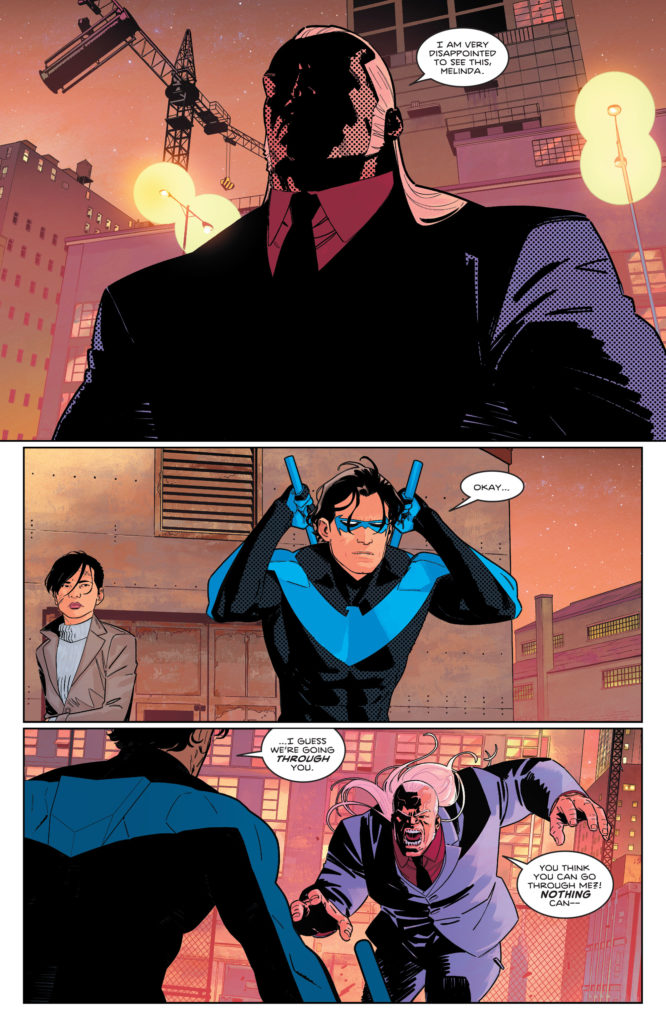 The story opens with two of Blockbuster's henchmen discussing their current prisoner. Soon, Nightwing arrives and battle his enemies on a rescue mission. Elsewhere, former Commission Maclean faces Blockbuster's wrath. Later, Commissioner Sawyer meets with Melinda and two members of the Bat Family and discuss a promising opportunity. Then, Nightwing and his team of family and friends strike out against Blockbuster and his organization. However, a deadly counterstrike forces Nightwing into a solo task. Finally, the hero finds himself in a compromising situation.

The Story: As always, Taylor creates an exciting and well-crafted narrative that highlights both the humanity and community reliance of Nightwing. Throughout the chapter, Nightwing works with both family and friends to fight crime. He also risks his own life to save others in a selfless and humble manner. This style of heroics is what makes Nightwing relatable, and his confident ability to acknowledge his need for others is what sets him apart from the rest of the Bat Family. But it is also a potential nail in the coffin for his entire network. The cliff hanger ending is more than a means to generate enthusiasm. It sets the tone for the story going forward and creates a potential avalanche of consequences for those who choose to fight against villains in multiple areas. I can't wait to see how this current situation will play out and what lingering affects it will have on this series.

The Art: This issue features a modern and realistic design style that features bold coloring and detailed drawings. The action sequences are top notch and the attention placed on both character and background provide an emotionally connective and immersive visual experience.