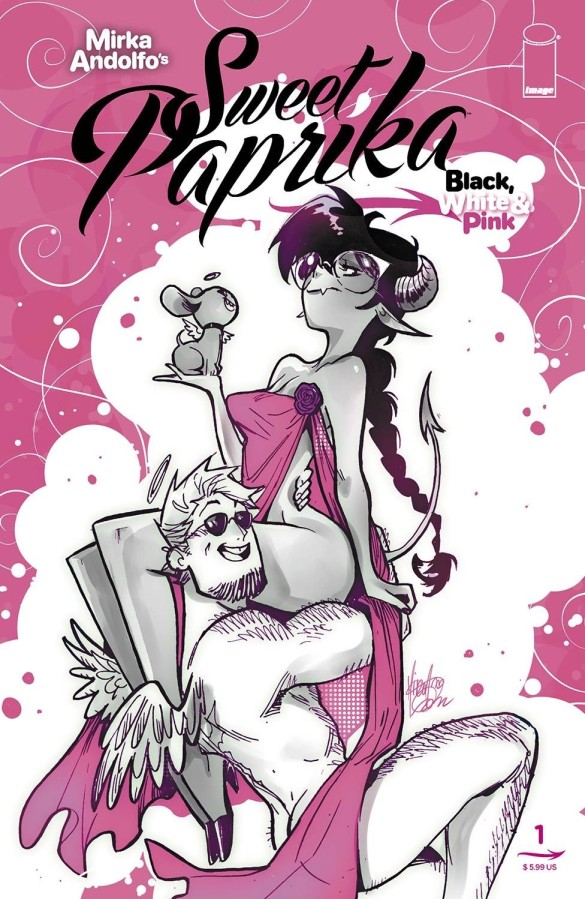 Mirka Andolfo's Sweet Paprika Black, White & Pink #1
Image Comics
Written by Katana Collins, Kim Krizan, Steve Orlando, Stjepan Sejic, Mirka Andolfo and Luca Blengino
Art by Xong Bros., Elisa Ferrari, Gabrielle Bagnoli, Retsu Tateo and Otto Schmidt
Letters by Fabio Amelia
The Rundown: Writers and artists explore the world and characters of Mirka Andolfo's Sweet Paprika.
Artemisio Unleashed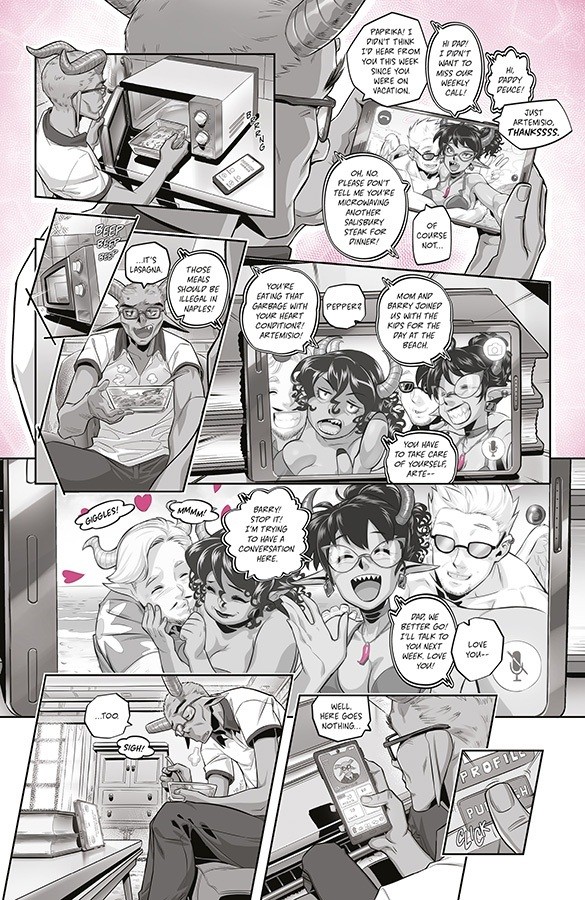 With everyone in his life moving on romantically, Artemisio can only think of his past with his ex-wife Pepper. His therapist recommends trying a dating app, but his first night out with someone new becomes a nightmare when his past is revealed. Can a sexually liberated young woman bring the judge out of his shell?
A fun, sexy adventure that continues to showcase complicated characters dealing with the complexity of life. Great art perfectly complements the story and its characters.
Anisette's Sunrise
On her way to a work conference to have some fun, Anisette finds herself trapped when the train crashes. When a young laborer named Basilio tries to rescue her, they find themselves trapped together. Basilio then does something Anisette never expected. He tries to get to know her as a person.
A fun and entertaining story that allows for Anisette to grow as a character while the reader learns more about her. The art works really well because it is character focused.
The Prince and the Queen
Aubrey is a lonely proofreader who wants nothing more than to be as powerful and present as his idle Paprika. When the handsome mail man gives him the opportunity to try something outside his comfort zone, he fears her judgment, but also gives in to his desires.
A fun and entertaining short that continues to expand the world of these characters in great ways. I love the art style as well and how fun everything looked visually.
Endless Hate
Anisette is tired of having her work life consumed by Paprika and even though she isn't angry at her, her former boyfriend Za'atar is a different story. Her hatred of him bubbles to the surface during a meeting and when she follows him into the bathroom to give him a piece of her mind, she discovers something unexpected. Something that will bring the two together in more ways than one.
A funny and entertaining rivals to lovers style story that expands the characters in great ways. Great art as well. I loved the style.
Fitting Room
Paprika and Dill are getting ready for a party and Paprika really wants her boyfriend to wear something conservative. Unfortunately, that is not Dill's style and as angry as she is with his choice, that anger evaporates when he decides to get her to try something on that is both out of her comfort zone and has the potential to unlock something new and unexplored within her.
A fun, funny and sexy short that tells a great short story with great characters. The short looks amazing with art that connects perfectly to the fun, sexy vibe of the story.
Burnet's…Redemption?
Burnet wants to make a change in his life. A change that currently has him working a horrible job at a law firm run by a woman who despises him. Fortunately for Burnet, his path to change will include him coming to terms with who he really is and using that to get everything he wants, including his boss.
A fun short with some awesome twists that had me laughing and excited for the character.