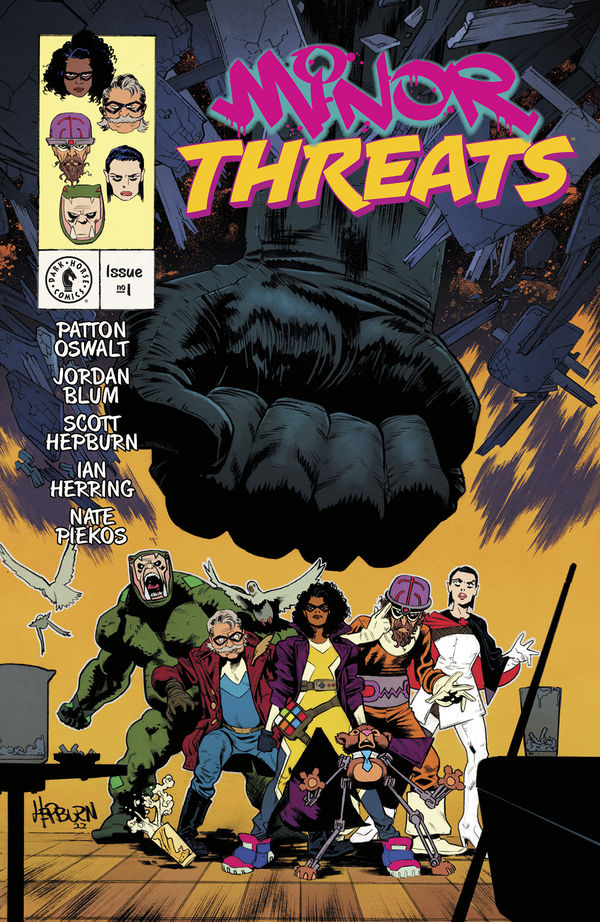 Minor Threats #1
Dark Horse Comics
Written by Patton Oswalt and Jordan Blum
Art by Scott Hepburn
Colors by Ian Herring
Letters by Nate Piekos
The Rundown: A group of low level supervillains decide to do something daring after a tragedy puts them all in danger.
Years ago in Twilight City, Frankie used to be the sidekick of her supervillain mother. After getting caught and sent to prison, Frankie now mans a bar frequented by low level supervillains. She finds things more difficult as she tries to go straight and move on with her life while trying to have a relationship with her estranged daughter.
When the sidekick of a superhero known as the Insomniac is murdered publicly by a villain, the heroes go on a rampage throughout the city hunting for him. A move that puts the low level villains at risk of retaliation including Frankie. With few options, Frankie decides to form a crew to do something that will take the heat off of them all.
The Story: A surprisingly inventive, engaging and unique take on the superhero world with some great characters and humor. I really like the character of Frankie and how compelling her personal struggles are as well as how she tries to deal with the dark reality of her circumstances. The story has great tension throughout and I really enjoyed the eclectic cast of characters that inhabit this world. I'm intrigued by this story and look forward to seeing what happens next.
The Art: Hepburn delivers some beautifully detailed art on every page of the issue. I love how the story elements and time periods melt into each other visually and the transitions are visually gorgeous.