Lovesick #3
Image Comics
Story and Art by Luanna Vecchio
English Adaptation by Edward Caio

The Rundown: Domino's life is put in danger, when she finds herself face to face with the Bloodcels. The Red Room's dark secret is explored.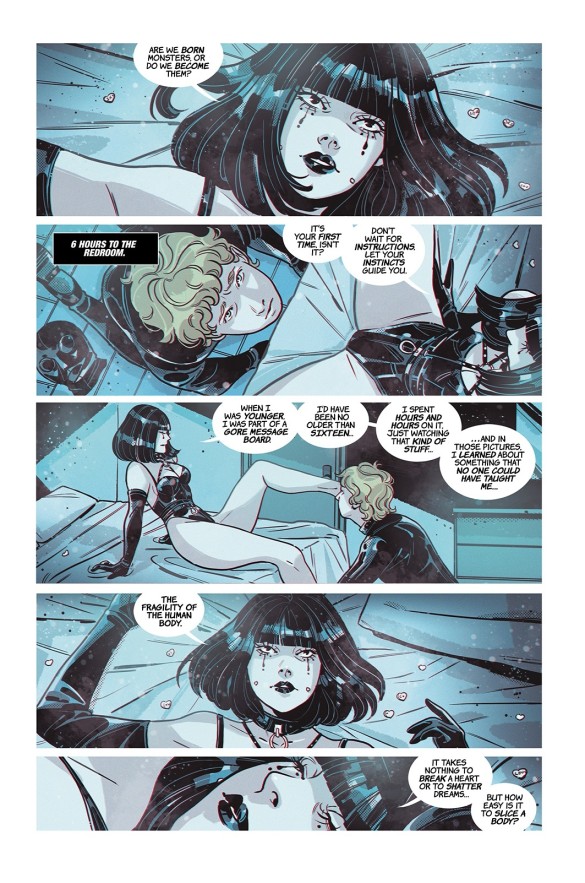 The chapter opens with an intimate interaction between Domino and Colin. After sending him to the Red Room's secret location separately, she is escorted to the event by one of her girls. On the way she is attacked by the Bloodcels. In fear of her life, she heads into a forest where she struggles with internal conflict. After being captured, Domino makes a bold move that surprises her enemies. Soon, her girls arrive and provide aide during the conflict. Later on, Domino arrives at the Red Room and performs for her audience. Then, the shocking secret attached to her livestream is revealed. Finally, Domino, after being comforted by the Domino Girls, is left to ponder the day's events.

The Story: Vecchio's treatise on the depravity of humanity, and the sexual and emotional connection between fear and pleasure is absolutely brilliant. The third chapter of this series is a mind-bending presentation of thought-provoking content and perfectly crafted visuals. At its basic level, this is a tale of murder, cannibalism, sexual perversion, and incels. But I challenge the reader to dig deeper.

I was particularly struck by the way in which sexuality and desire is crafted in this narrative. Domino's introspective elaboration on her fascination with death while being pleasured by her submissive was as erotic as it was disturbing. It's framed in such a way that her being put at ease physically gives her the confidence to deal with mental trauma.

It also gives perspective on her relationship with those whose lives she will ultimately take. Her internal monologue as she endures both physical and emotional horror captures the essence of her struggles. Domino's longing for death on her own terms, her heart's desire, is a precious gift that she, Mother, bestows on her piglets.

Then, there is the call out of the distinct patriarchal forces at play in this chapter: misogyny; capitalism; and grooming. Domino has been abused by all three. Trapped in a psychological prison, her evolution into Mother Demon can be seen as both protective and restrictive.

As she questions her own actions, it becomes increasingly clear that she is merely a cog in a dastardly wheel crafted by the affluent and depraved. Her early exposure to the world in which she now resides is much larger than just a few broadcasts on the dark web. There is a corruption taking place that is both cyclical and generational. As one of Domino's girls so aptly states: "There's no such thing as monsters, Mother. Human nature itself if monstrous enough."

The Art: As with previous chapters, this issue contains explicit sexual content, nudity, and graphic violence. Its use of a traditional, realistic drawing style makes the artwork feels vintage. Red and blue colorwork is used in tandem to capture the mood of the corresponding scene and to visually elicit emotional responsiveness. I found the illustration both compelling and immersive.