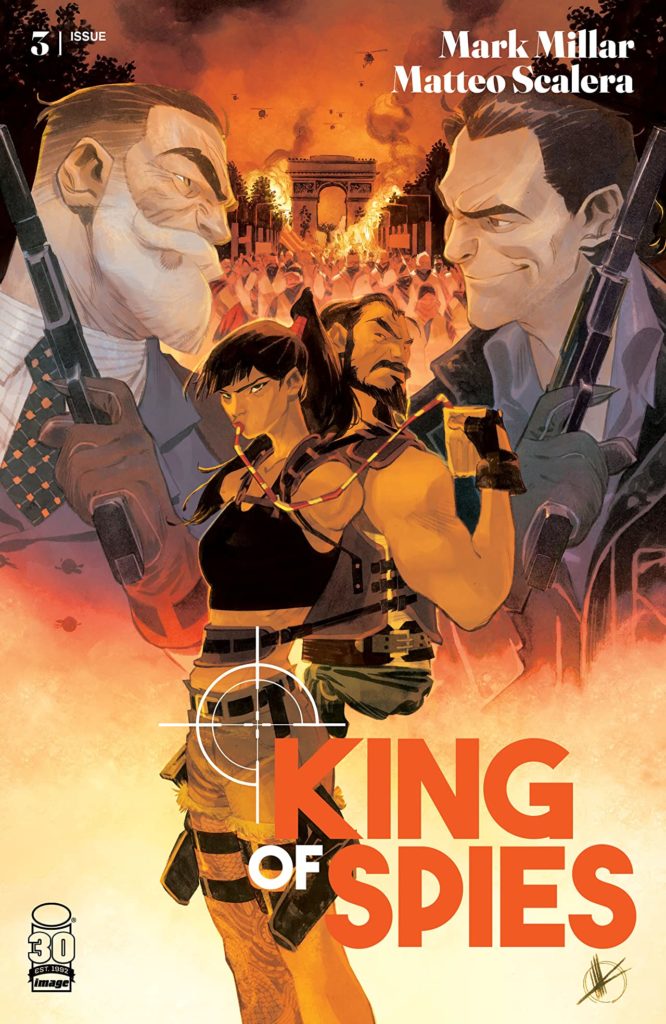 King of Spies #3
Image Comics
Written by Mark Millar
Art by Matteo Scalera
Colors by Giovanna Niro
Letters by Clem Robins
The Rundown: Roland King might face his death sooner than expected when his son tracks him down.
Roland King makes a trip to the Vatican to capture another high value target. After waking up in a forest, the priest learns not only why he's been brought to that location, but also who is there to greet him. With the man surrounded by victims and families of victims, Roland walks away to leave the man to his fate. A fate that the government tracking him wants Roland to be killed for.
With Roland's kill count getting higher, the Prime Minister wonders if Roland's son Atticus is the right man to take him down. Atticus manages to track his father to Paris where he alerts his team that his old man is holding another potential victim. As his son's team moves in, Roland's hostage tries to make a deal. Unfortunately, Atticus arrives right after his father escapes and decides to leave his son a parting gift. One that will lead to a massacre through the streets of the city and possibly the end of Roland King.
The Story: Millar crafts a slick, exciting and tension filled thrill ride in this issue. King is an effortlessly cool character who is deeply flawed but engaging. The rest of the characters are interesting as well and the dynamic between father and son is one I cannot wait to see explored. There is a great, dramatic energy to this issue and the tension can be felt on every page. A smart, brilliantly paced thriller that leads to a wonderful cliffhanger.
The Art: Matteo Scalera delivers some beautifully crafted and detailed images throughout this issue. The action is top tier and visually thrilling. The character moments are filled with great detail. A great looking issue from cover to cover.