Jung_E
Native Title: 정이
Netflix
Written & Directed by Yeon Sang-ho
Starring Kang Seo-youn, Kim Hyun-joo, and Ryu Kyung-soo
Rated TV-14
Run Time: 1hr 39min

An elite soldier. A failed mission. A prolonged coma. In a dystopian future where her cloned brain could end a war, a mother fights on for her daughter.

Yeon Sang-ho, the director of the critically acclaimed 2016 film "Train to Busan" is back and at the helm of this thought-provoking Sci-Fi thriller. Fans of the genre will recognize several familiar concepts which call to mind classics such as I-Robot and Blade Runner. However, this story puts a fresh spin on the relationships between AI and humanity and raises questions regarding consent, economic status, and the nature of personhood.
Jung_E is an international presentation that has several language options. I chose to view this movie in its original Korean, with English subtitles. For the purposes of this review, I also watched a portion with the audio in English. Although I am not a fan of this method of viewing, I found the English dialogue to be of decent quality, though much of the tone is lost. I also believe that Netflix created content has better quality translated audio than many other English language dubbed broadcast media. I would also like to add that as Korean letters and sounds are different than English, the Romanized spelling of the actors' names will change based on the platform viewed.
In terms of production, this well-crafted project makes excellent use of both practical motion and computerized special effects. The action scenes are top notch and immersive. Honestly, I would have loved to see them played out on in the cinema. If Netflix ever releases this on the big screen, I will be first in line to buy a ticket.

The story open with a high-octane battle that closely follows Captain Yun Jung-yi's attempt to infiltrate a military facility on the space colony Adrian. Afterwards, the truth of this assignment is revealed and the first of several interesting plot developments enlightens the viewer to the story's overall plot.
I must note: American audiences may not be used to the unexpected, seemingly oddly placed humor of this movie that is ever present in many episodic South Korean dramas. I admit, I was also somewhat surprised by the early moments of levity played a bit different from other darker themed South Korean Sci-Fi movies that I have viewed. However, these scenes lead to a worthwhile pay-off. I encourage confused audiences to keep watching.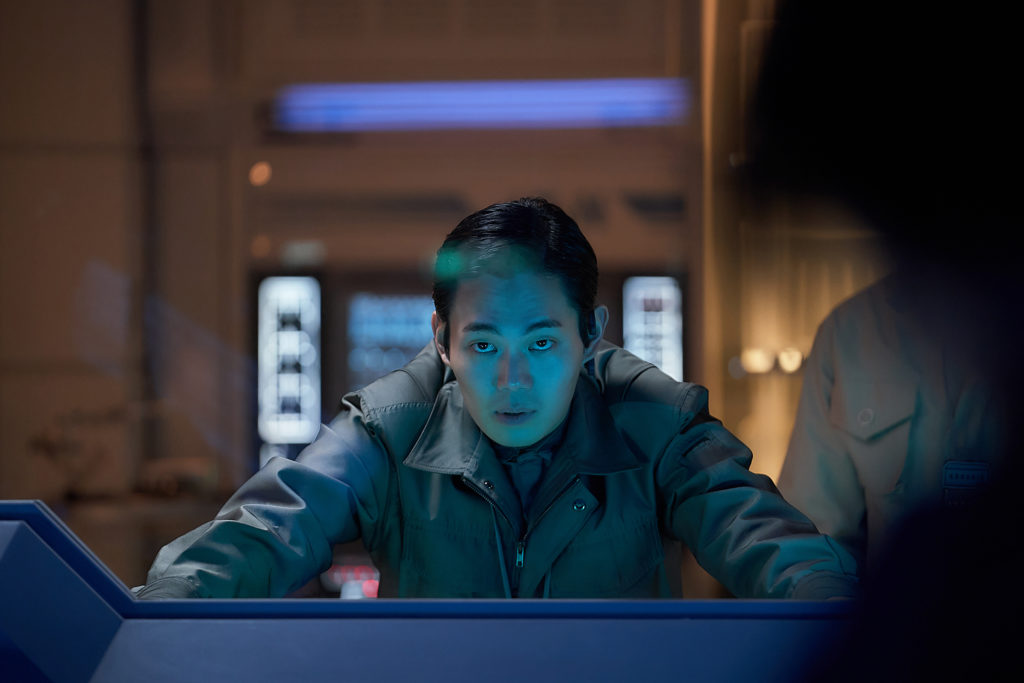 As the film progresses, the story is told through current events and a series of flashbacks that describe the relationship between Chief Yun Seon-hyun and the AI lifeform Jung_E. I was particularly struck by how certain societal issues are addressed through the lens of a technologically advanced, yet post-apocalyptic society. A mid-movie scene discussing the types of AI available struck a deep, unnerving chord that brought to mind the adaption of a caste system and how that type of infrastructure is both economically advantageous and disgustingly inhumane.

Throughout the movie, the three main characters deal with disappointment, anger, and desperation as the answers to many of their overarching questions are revealed. All the actors involved did a quality job, however, each of the leads had outstanding, award worthy performances.
This movie combines three well known top tier actors that present disparate performances that work together brilliantly. Ryu Kyung-soo, known for his work in dramas such as the Netflix mega-hit Itaewon Class, shines. A calculated combination of over-the-top camp and mania confuses, frightens, and finally dumbstrucks in the most amazing of ways. International, highly acclaimed actress Kim Hyun-joo is a worthy action hero that not only kicks major butt, but also portrays Jung_E in a stunning manner that immediately captures the attention.

The trio is rounded out by main lead Kang Seo-youn who's powerful, yet subdued performance mesmerizes. Tragically, Kang Seo-youn passed not long after the completion of filming and a quiet tribute is honoring the actor displays after the film's final scene. Her masterful work will be long remembered.

Jung_E is an entertaining and well-planned action/Sci-Fi adventure that combines a myriad of explosive action scenes with provocative societal commentary. I really enjoyed this film and highly recommend it to others.