Jane Foster & The Mighty Thor #3
Marvel Comics
Written by Torunn Gronbekk
Art by Michael Dowling
Colors by Jesus Aburtov
Letters by Joe Sabino
The Rundown: As war continues to wage in Asgard, Jane fights to find the missing Thor.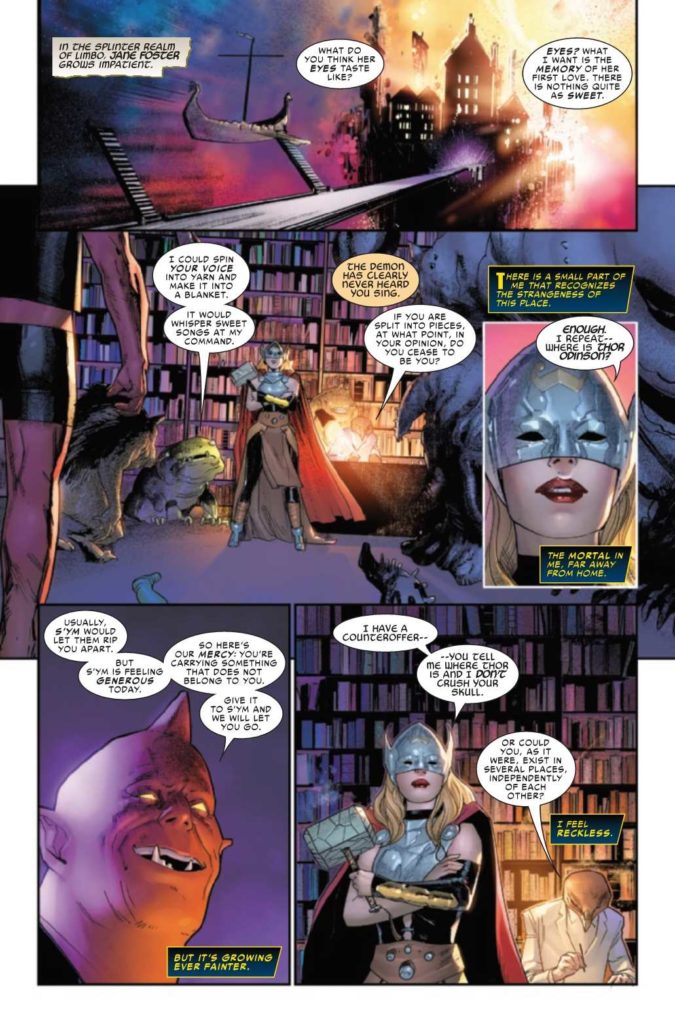 Thor finds a means of escape and finds himself running through an unknown land. At the same time, Jane faces off against S'ym in Limbo after demanding to know where Thor is. She takes on the power of the Mighty Thor, but finds that even that power has its limits and switches to a new tactic before continuing her search.
At the same time, Tyr continues his attack on Asgard as the mystery woman meets with a shadowy figure who is ready for the next part of their plan. While war rages in the city, Runa finds herself in a pitched battle that takes a dark turn when a new weapon is unleashed.
The Story: Gronbekk delivers some great tension and action in this issue. The story has a lot of moving parts and Gronbekk manages to make every part feel compelling and intriguing enough to keep reading. The Jane Foster storyline offers some great character moments with my favorite being the one on the ship with the librarian. The rest of the story has great thrills throughout and a wonderful ominous tone that ramps up the drama.
The Art: Dowling delivers art just as thrilling as the story itself. The tone and details in the action scenes are wonderful and I love the dark nature of the drama behind the scenes of the war itself.