Hell to Pay #2
Image Comics
Written by Charles Soule
Art by Will Sliney
Colors by Rachelle Rosenberg
Letters by Chris Crank
The Rundown: Sebastian and Maia's mission continues to be complicated as they make some powerful enemies.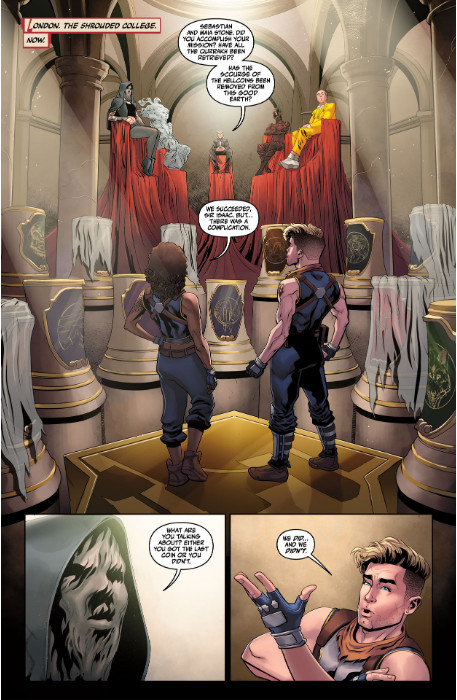 After securing what they believe is the last hellcoin they've been searching for, Sebastian and Maia return to the Shrouded College to not only present their last coin, but to tell the gathered that there are more. A revelation that becomes heated and tense when the council reveals that they will not let the couple out of their deal until they find the new coins in circulation.
As the pair contemplate what they will do next along with the new addition they are trying to protect, they make the decision to continue the hunt by visiting a mountain prison whose warden traded thousands of prisoners for one of the coins. A trade that will lead to something darker coming for the pair.
The Story: Soule crafts an inventive and entertaining story in this issue. The characters and their issues continue to be compelling and I love all of the complications and the world building included in the issue. There are some great reveals throughout the issue and I love not only the action, but the surprise at the end of the issue and what it means going forward.
The Art: Sliney delivers some beautifully detailed art throughout the issue. The visuals are stunning and the action is thrilling.