Love Everlasting #5
Image Comics
Written by Tom King
Art by Elsa Charretier
Colors by Matt Hollingsworth
Letters by Clayton Cowles
The Rundown: Joan is finally in a place where she might be able to get help, but secrets will send her on another journey.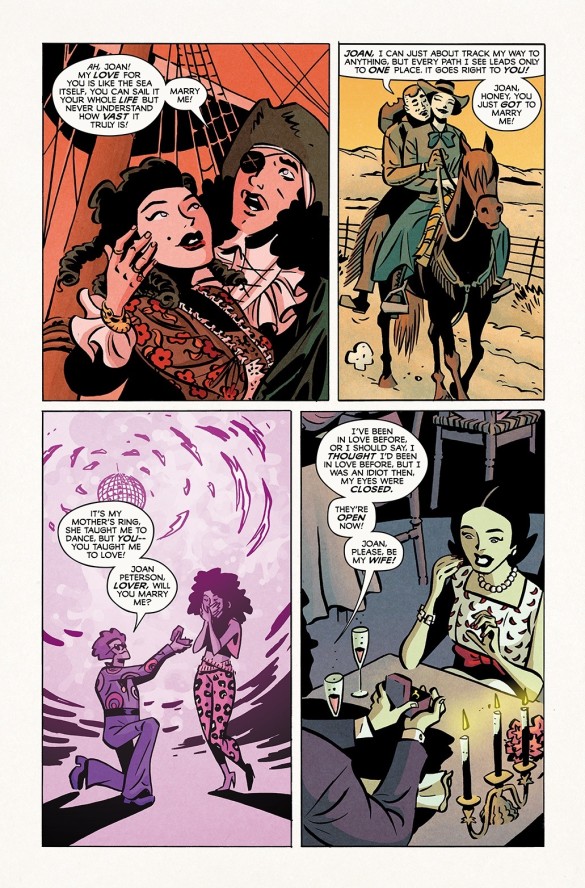 Joan Peterson finds herself in the lobby of a fancy office in what looks like the 70's before she is invited into the office of Penny Page an expert on love, dating and relationships. As Joan continues to wonder why she's there, Penny seems to know a lot more than she's willing to reveal. She also seems to know a lot about Joan's strange movements through time and why she cannot seem to commit to any of the men she has fallen for in her travels.
Joan reveals her frustration with what's happening to her, her inability to find love and the cowboy who keeps shooting her. Revelations that will lead to a violent confrontation when Joan decides she's had enough and wants to see the person responsible.
The Story: King continues to craft an awesome, dizzying and thoroughly engaging story in this series and every issue has something new and exciting to explore. I continue to love the mystery within this series and this issue adds some great layers along with a new aspect of the mystery that I want to see explored.
The Art: Elsa Charretier delivers some beautiful art in the issue. The transitions between time and location are visually stunning and I love the visual transitions throughout the issue.