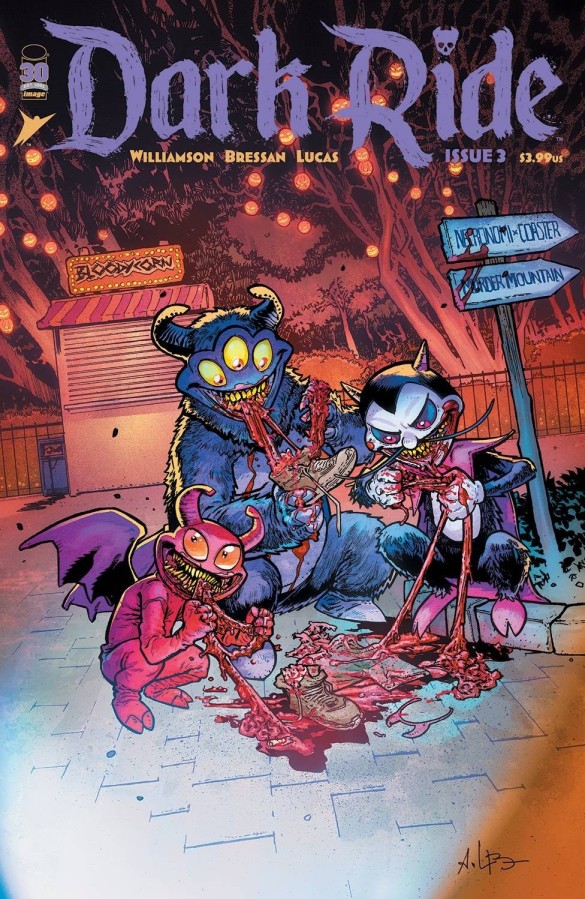 Dark Ride #3
Image Comics
Written by Joshua Williamson
Art by Andrei Bressan
Colors by Adriana Lucas
Letters by Pat Brosseau
The Rundown: Summer wants to know what happened to her brother while Sam Dante gets an interesting call.
Summer wants to know what happened to her brother and she decides to pay a visit to the videographer who has been covering the park. At the same time, Sam Dante tries to deal with the aftermath of his daughter hurting herself in his home and his ex who blames him for it. The videographer tells Summer how she can get the footage from the park to see what happened to her brother, but it is extremely dangerous.
Sam pays a visit to his father and immediately gets into a fight with his sister as their father works on a new and secret project for the park. Summer breaks into the park and finds herself confronted by Sam who wants answers. As she attempts to get away, she has a disturbing encounter.
The Story: Williamson is ramping up both the tension and horror in this issue. The plot continues to be intriguing with engaging characters and a mystery that continues to be compelling. The plot and its dark tone continue to immerse the reader in a world of horror that I continue to be entertained by with a mystery I cannot wait to see evolve.
The Art: Bressan delivers some beautifully bloody art throughout the issue. I love the visual style of this series and the use of shadows as well as all-out gore.