Gotham City Year One #4
DC Comics
Written by Tom King
Art by Phil Hester
Inks by Eric Gapstur
Colors by Jordie Bellaire
Letters by Clayton Cowles
The Rundown: Slam Bradley plunges deeper into the darkness of Gotham as his investigation takes a darker turn.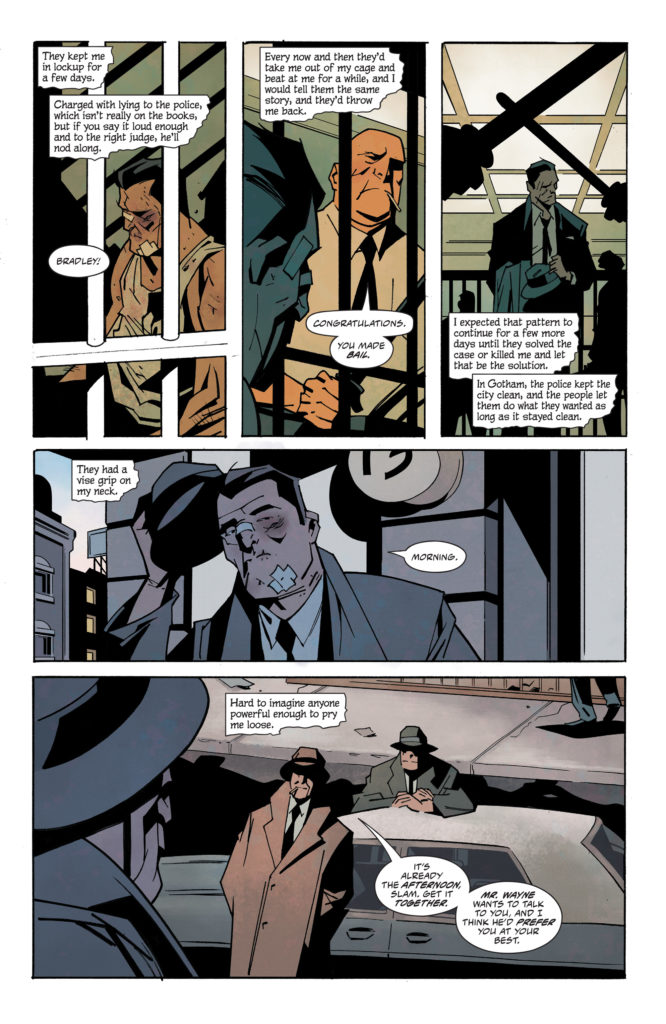 In the wake of what happened to Helen Wayne, Sam finds himself getting tuned up by the police and thrown into a cell. After being released, he is promptly taken to see Richard Wayne who decides to torture him some more for what happened. When Slam finally snaps, he shows the tough guys Wayne hired just how tough he can be.
After returning to his office, Sam receives an unexpected visitor. One who will make his night a lot more complicated. He also decides to give someone the payback they deserve and finds himself staring into the barrel of another gun while getting information that changes everything about his case.
The Story: A brilliantly dark and gritty noir thriller that continues to create great characters, mystery and atmosphere. I continue to love Sam Bradley as a character and every moment he takes the reader into the darker elements of Gotham is a great one. I love how dark the story goes and how Sam is crafted as the flawed hero. I cannot wait to see where the story goes next after its awesome cliffhanger.
The Art: Hester brings fantastic scope and emotion to the visuals in the issue. Every page, panel and angle reminds me of some of the best noir films and the imagery creates the perfect emotional tone for the story.