Spider-Man #4
Marvel Comics
Written by Dan Slott
Art by Mark Bagley
Inks by John Dell and Andrew Hennessy
Colors by Edgar Delgado
Letters by Clayton Cowles
The Rundown: With a devastating loss, the remaining spiders find themselves at the mercy of Shathra.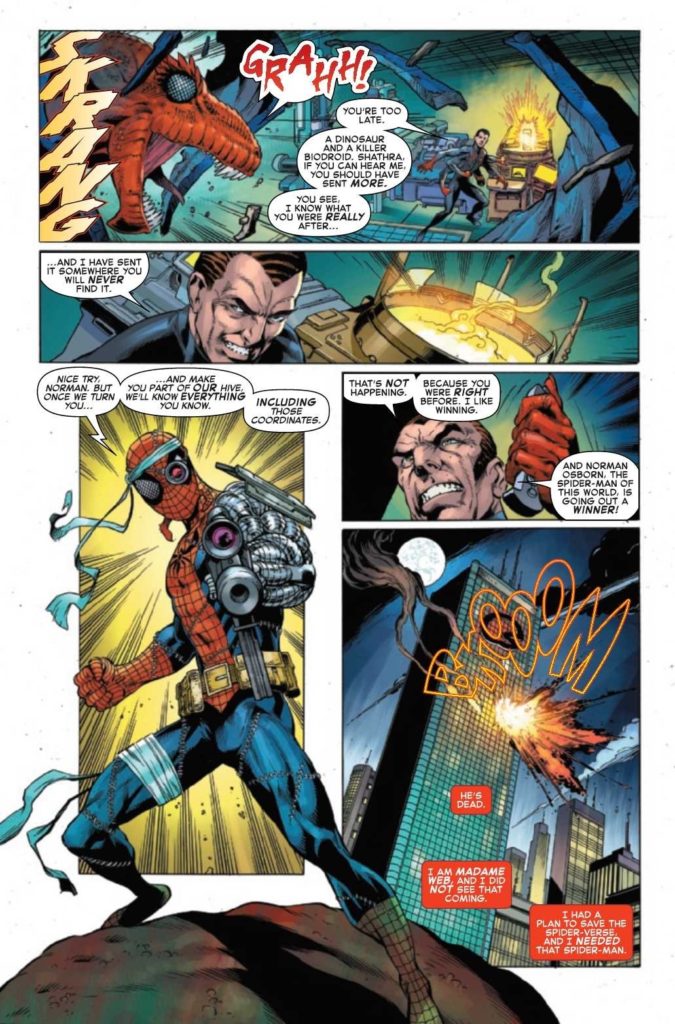 Peter Parker is gone and the remaining spiders are scrambling to fight Shathra's forces with the loss of the chosen one. Julia sees her forces dwindling as Norman Osborn on another Earth sends something that could possibly stop the destruction of the spider-verse. At the same time, Miles attacks Shathra and finds himself captured.
Julia and Spider-UK discover a possible means of stopping Shathra once and for all. Something in the form of an unusual Spider-Man prototype. At the same time, Osborn of 616 recovers a device he thought lost and a familiar lab assistant makes an interesting discovery.
The Story: Slott delivers a story filled with great tension and action. The plot takes some interesting twists and turns, but it is engaging enough to keep me intrigued. I look forward to seeing where the story goes next and what other twists it takes after the surprise ending.
The Art: Bagley delivers some beautiful art in the issue. I continue to be impressed with the style of the issue and the different visual takes throughout.